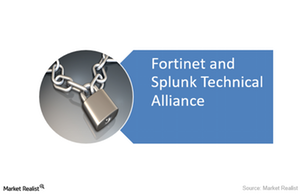 Fortinet and Splunk to Form Technical Alliance Against Cyber Threats
By Parker Thomas

Sep. 22 2015, Updated 3:44 p.m. ET
Fortinet and Splunk synergies
Fortinet (FTNT), a global leader in cybersecurity, constitutes 4.98% of the ISE Cyber Security ETF (HACK)—the fund's highest stake. Recently, the company announced a technical alliance with Splunk (SPLK) that should significantly increase the ability for service providers to defend themselves from cyber attacks.
The established synergy between the two companies should provide their joint customers with better response times to upcoming threats, as well as with stronger mitigating capabilities. With the recent increase in cybercrime, standalone solutions appear to be not enough to satisfy the growing need for cybersecurity. A collaborative security model that extends the capabilities of the individual companies' offerings should strengthen overall industry security.
Article continues below advertisement
Joint customer benefits
Together, Fortinet and Splunk are endeavoring to identify the most critical cyber threats by providing security teams from a complex technical environment. The collaborative model with Splunk should also strengthen Fortinet's standalone applications by accelerating and automating their current defenses against upcoming threats.
The collaborative environment between the two companies should bring even more effective solutions for their joint customer, Swisscom. Christof Jungo, Swisscom's Head of Security, said recently that "Working with both Fortinet and Splunk, we are able to expand our security service capabilities successfully. Moreover, deliver even greater value and protection to our customers and lower our internal ligation cost."
Microsoft Corporation (MSFT) and Fortinet (FTNT) constitute 8.54% and 1.47% of the iShares North American Tech-Software ETF (IGV).