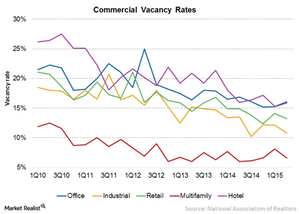 Falling Vacancy Rates Bode Well for REITs
By Peter Barnes

Sep. 24 2015, Updated 6:15 a.m. ET
Vacancy rate decline
According to the data from NAR (National Association of Realtors), the office vacancy rate declined to 15.9% in Q2 of fiscal 2015 compared to 16.5% in the same period year ago. Retail vacancies declined by 1.37% year-over-year to 13.2% in 2Q15. Buoyed by a pickup in economic activity, the industrial vacancy rate reported a sharp decline in 2Q15 to 10.8% compared to 13.26% in 2Q14.
On the other hand, the vacancy rate for multifamily apartments rose from 6% in 2Q14 to 6.6% in 2Q15. The rise in the apartment vacancy rate can be attributed mainly to an increase in apartment supply.
Article continues below advertisement
Defining vacancy rates
The vacancy rate is the percentage of constructed space available in the market that is currently unoccupied and is up for rent. The vacancy rate is an important indicator of commercial real estate as it determines supply and demand in the market. A high vacancy rate is often a sign of some kind of distress in the market, and it shows a lack of demand for property. On the other hand, a low vacancy rate indicates strong demand for properties in the market. Normally, when the actual vacancy rate is lower than the normal vacancy rate, rent is expected to rise, and vice versa.
Implications for REITs
REITs' major source of income is rent received from tenants. Lower vacancy rates mean fewer unoccupied properties in an REIT's portfolio. Unoccupied properties don't generate any income for REITs. On the contrary, REITs incur maintenance expenses on unoccupied properties.
The sharp drop in industrial vacancy bodes well for industrial REITs such as Prologis (PLD), DCT Industrial Trust (DCT), and First Industrial Realty Trust (FR). The decline in the office vacancy rate is beneficial to office REITs such as Boston Property (BXP), SL Green Realty (SLG), and Alexandria Real Estate Equity (ARE). Boston Properties (BXP) forms 3.19% the SPDR DJ Wilshire REIT ETF (RWR).
In the next part of the series, we'll discuss the absorption rate in the commercial property sector.