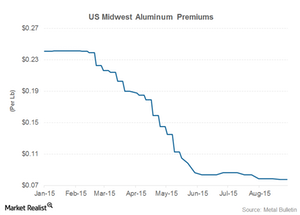 Fabricators Are Making the Most of Falling Aluminum Premiums
By Mohit Oberoi, CFA

Updated
Falling aluminum premiums
Previously, we saw that aluminum's price fell less compared to copper and iron ore. However, more than aluminum prices, it's the steep fall in physical premiums that have dented aluminum producers' earnings. For aluminum producers, the all-in aluminum price consists of the aluminum price plus regional aluminum premiums.
The aluminum premium is a surcharge that aluminum consumers must pay on top of the prevailing prices in order to take delivery of the metal from the warehouses. The above graph shows the movement in spot US Midwest aluminum premiums so far this year. The data are compiled by the Metal Bulletin. As you can see, so far, aluminum premiums fell by ~66% in 2015.
Falling aluminum prices have negatively impacted the earnings of Alcoa's Primary Metals segment.
Currently, Alcoa (AA) forms of 0.86% the iShares North American Natural Resources ETF (IGE) and 1.44% of the SPDR S&P Global Natural Resources ETF (GNR).
Article continues below advertisement
Fabricators benefit from a lower aluminum premium
Primary aluminum producers' earnings have been negatively hit by falling aluminum premiums. However, aluminum fabricators like Kaiser Aluminum (KALU) have benefitted from the massive fall in aluminum premiums. Kaiser Aluminum buys aluminum from primary producers. Then it fabricates the aluminum. While it has to pay the physical premiums when it buys aluminum, at times fabricators face a challenge in passing these premiums to their buyers.
As a result, the fall in aluminum premiums is positive for Kaiser Aluminum.
Constellium (CSTM) is a leading Europe-based fabricator. It should also benefit from the fall in aluminum premiums. However, the company is saddled with a huge debt pile after its Wise Metals acquisition. It has also seen order deferrals from some of its key customers. This negatively impacts its financial performance.
In the next part, we'll explore how business models impact aluminum companies' financial performance.