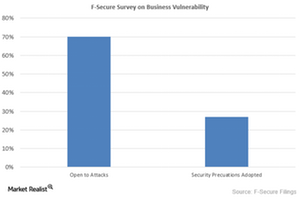 F-Secure's Survey on Business Vulnerability
By Parker Thomas

Updated
Un-patched software is vulnerable to cyber threats
F-Secure conducted a survey on business enterprises to determine vulnerability from cyber threats. F-Secure reported that 70% of businesses have outdated software and leave themselves open to cyber threats. Updating software with the latest security patches can prevent 85% of targeted attacks. However, many firms continue to ignore the importance and value of keeping software up to date.
F-Secure, which constitutes 2.62% of the PureFunds ISE Cyber Security ETF (HACK), reported that 27% of companies have a patch management solution, which protects firms from intruders. People feel that system updates may cause problems, when in fact the opposite is true.
F-Secure provides a robust security solution that includes patch management. The company provides clients with the latest release features and additional security tools to help companies manage and control the risks that arise from online threats.
A network intrusion can impact business firms in several ways:
loss of sensitive business information
malfunction of regular operations
potential harm to the organization's goodwill
Companies like Adobe (ADBE), Microsoft (MSFT), Oracle (ORCL), Symantec (SYMC), and OpenSSL provide a patch management process to ensure preventive measures are taken against potential threats.
Article continues below advertisement