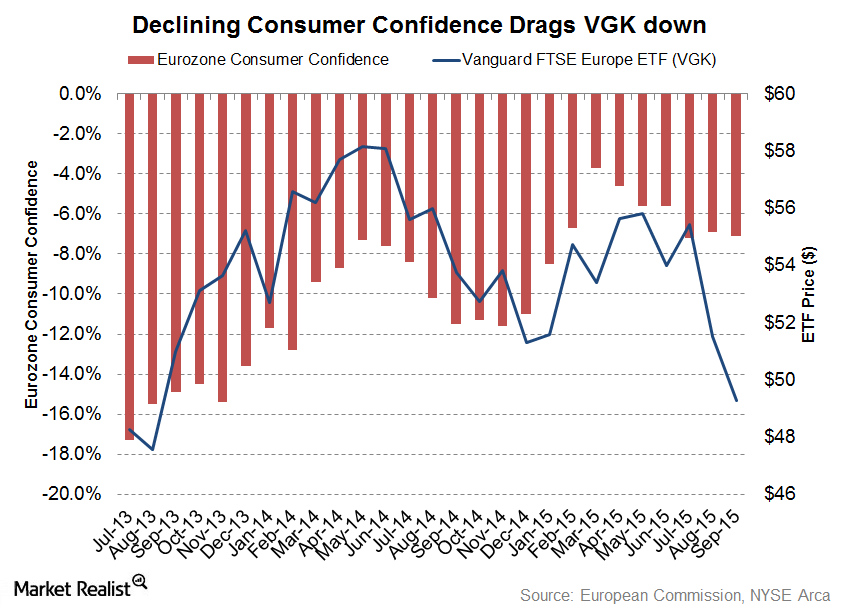 European Stocks Fall due to Declining Consumer Confidence
By Lara Sheldon

Nov. 20 2020, Updated 2:46 p.m. ET
Consumer confidence fell to -7.1% in September 2015
An optimistic consumer is good for business, whereas pessimism about spending may derail the economic activity. According to the Directorate General for Economic and Financial Affairs' flash estimate, consumer confidence decreased by 0.2% to -7.1% in September 2015. The consumer confidence index provides a link between household expenditure and consumer sentiment in the economy. Over the past year, the biggest decline was recorded on November 2014 at -11.6%, whereas the smallest was seen in March 2015 at -3.7%.

Article continues below advertisement
Declining consumer confidence drags the VGK down
Declining consumer confidence is not good for businesses, as it reduces company sales and erodes profits. The Europe-focused Vanguard FTSE Europe ETF (VGK) was down 12.73% over the past year. The ETF seeks to track the European equities, primarily large and mid-cap stocks. The top ten holdings comprise about 17.36% of total assets as of August 31. Nestle (NSRGF) and Novartis (NVS) made up 2.88% and 2.56%, respectively, of the ETF as of August 31. The stocks were down 2.27% and 3.16%, respectively, as of September 22.
With declining consumer confidence, consumer staple stocks have also taken a hit. Over the past year, stocks such as Henkel (HENOY), Unilever (UL), and Diageo (DEO) were down 3.90%, 6.35%, and 8.58%, respectively, as of September 22.
The consumer confidence index is published monthly by the European Commission. It has remained negative for a long time. However, since January 2015, consumer confidence has not declined below 10%. To boost consumer confidence, the European Central Bank (or ECB) announced an expanded asset purchase program in January 2015 (effective since March 2015) of 60 billion euros to continue until September 2016. However, it remains to be seen whether such steps get overshadowed by global volatility and the slowdown in China and other emerging economies. See Declining Unemployment Rate Lifts Investor Sentiment in the UK for more information on European economic indicators.
To stay updated on the global economic front, refer to our Global ETF Analysis page.