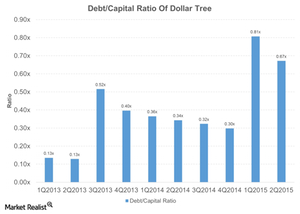 Dollar Tree's Debt Levels Are on the Rise Due to Acquisition
By Mark Jonker

Sep. 21 2015, Updated 11:05 a.m. ET
High financial leverage
In 2Q15, Dollar Tree Stores' (DLTR) long-term debt on the balance sheet stood at $8,265.5 million. That's a substantial increase considering the fact that in 2Q14, it was $740.2 million. The reason for the increase was due to a massive amount of debt raised to finance the Family Dollar acquisition deal. The company's debt-to-capital ratio has increased to 0.67x. It was almost half that, or 0.34x, a year earlier.
Article continues below advertisement
As you can see in the above chart, Dollar Tree (DLTR) raised quite a lot of debt in fiscal 2015 for the Family Dollar acquisition. Debt can have two sides. On one side, it increases returns to equity shareholders since it's tax deductible. But on the other side, more debt in the capital structure increases the cost of debt as well as risk of bankruptcy for the company. This is the reason no company has 100% debt in its capital structure. So it's very important to look at Dollar Tree's interest coverage ratio.
Interest coverage ratio
In 2Q15, Dollar Tree Stores' (DLTR) interest coverage ratio has fallen to 0.64x from 12.28x in 2Q14. This is a massive drop, but considering that the company is in the restructuring phase after the integration of Family Dollar, it has to bring up EBIT (earnings before interest and tax) substantially.
The interest coverage ratio of Dollar Tree's (DLTR) peers in the SPDR S&P Retail ETF (XRT) in the recent quarter are Dollar General (DG) at 22.9x, Target (TGT) at 9.12x, and Costco (COST) at 26.48x.
To understand if Dollar Tree Stores (DLTR) will be able to service the debt raised, we need to have a look at Family Dollar's historical performance.