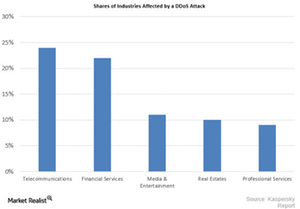 DDoS Attacks in the World of Cybersecurity
By Parker Thomas

Sep. 28 2015, Updated 5:06 p.m. ET
Distributed denial-of-service attacks
In the corporate world, organizations are facing increasing cyber threats from two groups: hackers seeking to disrupt operations and competitors seeking to implement attacks. For the most part, DDoS (distributed denial-of-service) attacks are noticeable, but they happen less frequently than malware attacks, phishing attacks, and network intrusions.
Although DDoS attacks remained stable over the past few years, they have increased from 4% in 2014 to 6% in 2015. A recent SMB Group report found that, to recover from cyber attacks, large companies have to spend around $417,000 in direct and indirect losses, whereas the average company loss from DDoS attacks in 2015 was only $53,000—a figure significantly smaller than other security breaches.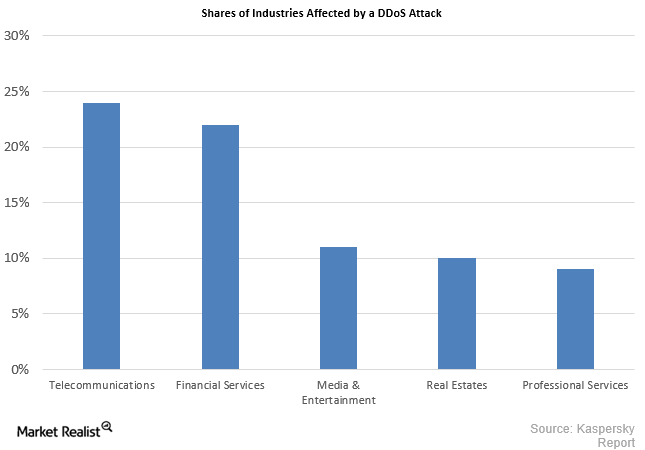 Article continues below advertisement
DDoS attacks in telecommunications and finance
Still, around 20% of small-scale based companies surveyed admitted to having been victims of at least one DDoS attack. But the rate varies according to industry. As the chart above shows, telecommunication companies have a 24% chance of falling victim to a DDoS attack, followed by financial services, media and entertainment, real estate, and profession services, which show attack probabilities of 22%, 11%, 10%, and 9%, respectively.
DDoS attacks are usually aimed either at disrupting the vulnerability of software applications, or at flooding traffic in order to exploit server resources. When Flipkart, an Indian e-commerce firm, promoted their high discount sales on "Big Billion Day," the company experienced a DDoS attack that led to the interruption of website operations. Other companies that have been victims of DDoS attacks include Rackspace (RAX), Amazon (AMZN), eBay (EBAY), and Akamai (AKAM).
DDoS attacks are most often accompanied by other types of security breaches. Around 74% of all registered cybersecurity incidents happen simultaneously with a DDoS attack, and so it's possible that DDoS attacks are being used to lure or distract a company's security team while trying to breach its perimeter.
The ISE Cyber Security ETF (HACK) is a portfolio of 32 stocks, of which Palo Alto Networks (PANW) makes up 4.54%.