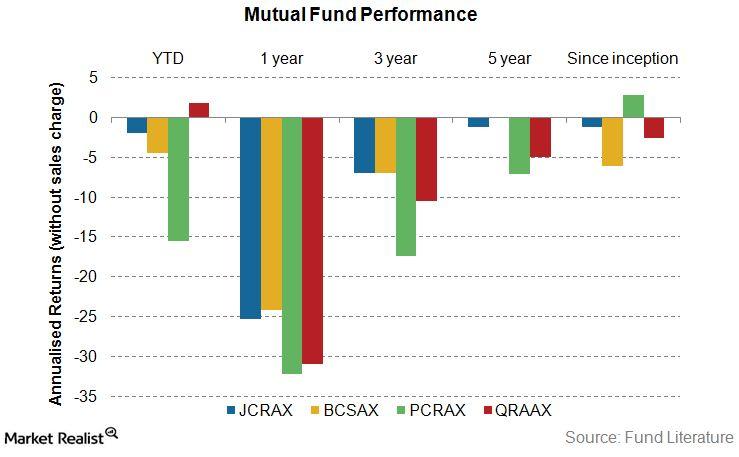 Commodity Prices Downtrend Replicated by Commodity Mutual Funds
By Vineet Kulkarni

Nov. 20 2020, Updated 4:06 p.m. ET
Recent performance of commodity mutual funds
Here, let's look at the recent performance of the following commodity mutual funds. Some of these funds have severely underperformed, with returns ranging from -30% to -50%.
ALPS Core Commodity Complete Commodities Strategy Fund (JCRAX)
BlackRock Commodities Strategies Investor Fund (BCSAX)
PIMCO Commodity Real Return Strategy Fund (PCRAX)
Oppenheimer Commodity Strategy Total Return Fund (QRAAX)
Article continues below advertisement
Portfolio management
The PIMCO Commodity Real Return Strategy ETF (PCRAX) clearly stands out as an underperformer among these four funds. It invests the pooled funds in commodity derivative instruments and Treasury Inflation-Protected Fund (or TIPS). We can see fairly positive returns in PCRAX since its inception in 2002, the same year that the commodities super cycle began. We will discuss this cycle in the fifth part of this series.
BlackRock Commodity Strategies ETF (BCSAX) is an active fund that tracks Bloomberg Commodities Total Return Index. This fund is a balance of commodity derivatives and equities. This is an energy-focused fund in which commodity futures and energy-related equities form about 40% of its holdings. Among its top equity holdings, ExxonMobil (XOM), ConocoPhillips (COP), Schlumberger (SLM), and Chevron Corporation (CVX) form around 6%. These energy companies collectively account for ~40% of the Energy Select Sector SPDR ETF (XLE).
Fund managers also opt for a combination of commodity-linked equities, derivatives, and fixed income securities. The Oppenheimer Commodity Strategies Total Return ETF (QRAAX) is one of them, offering -30% returns in the past year.
The ALPS CoreCommodity Management Complete Commodities Strategy ETF (JCRAX) invests in commodity-related futures and equities. It occasionally invests in physical commodity ETFs as well. This fund manages a general combination of 66% in commodity futures positions and the remaining 34% in equities.
These funds primarily use short-term fixed income securities as collateral eligible to hold commodity-linked investments.