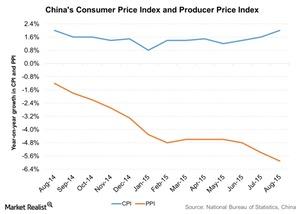 What Are China's CPI, PPI, and Debt Data Indicating?
By Lynn Noah

Sep. 21 2015, Updated 3:43 p.m. ET
China's CPI and PPI data
China's Consumer Price Index (or CPI) rose to 2% in August year-over-year (YoY) mainly due to higher food prices, especially pork, and not due to an improvement in economic activity.
Meanwhile, the Producer Price Index (or PPI) fell 5.9% YoY as manufacturers resorted to price cutting due to weak demand. The risk of deflation is growing in the manufacturing sector, which is more disturbing. Because lower prices mean lower profits for factories and with shrinking margins, it becomes difficult for manufacturers to run their businesses for a longer time.
Article continues below advertisement
China's rising debt burden
China's debt burden is constantly rising, while its GDP (gross domestic product) is falling. The latest figures for August show that outstanding renminbi (or RMB) and foreign currency loans totaled 97.05 trillion yuan, up 14.7% year-over-year (or YoY).
RMB loans increased by 809.6 billion yuan in August, 49 billion yuan more than the growth in the same period last year. At the end of August, outstanding foreign currency loans stood at $934.8 billion, up 1.2% YoY.
Why has China's debt risen?
The Chinese economy has been growing rapidly in the last two decades. The government wanted to boost its manufacturing and export sector. So the government made huge investments in the industrial and export sectors to support the rising global demand by borrowing funds on a large scale.
China's local governments borrowed heavily to build infrastructure such as roads, airports, and industrial parks. Now the situation has changed completely. Global demand has weakened. China's GDP is slowing, and the economy can no longer support the mounting interest burden that comes from the huge amount of debt.
Impact on mutual funds
Rising CPI and falling PPI affects all companies operating in China and hence the mutual funds. They include the Clough China Fund – Class A (CHNAX), the Fidelity China Region Fund – Class C (FHKCX), the John Hancock Greater China Opportunities Fund – Class A (JCOAX), and the Matthews China Fund – Investor Class (MCHFX).
Demand for consumer discretionary, or luxury goods, has fallen. This has adversely impacted consumer discretionary companies such as Jumei International (JMEI), Qunar Cayman Islands (QUNR), Tuniu Corporation (TOUR), and JD.com (JD).
China's debt burden is rising at an alarming rate. There's a danger that the country may fall into a debt trap. However, excessive borrowing may jeopardize the economic growth of the economy. Mutual funds will thus be impacted at the broader macro level.