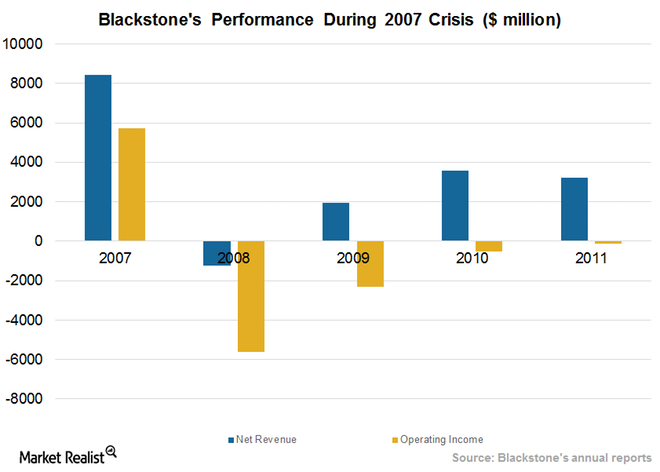 The Carlyle Group's Major Risks in Managing Funds
By Robert Karr

Dec. 4 2020, Updated 10:53 a.m. ET
Recessionary period
The Carlyle Group (CG) generates its revenues from managing and generating returns on its funds. The higher the funds and returns, the more revenue the company generates. The performance of its holdings or portfolio companies depends heavily on the global macroeconomic environment, especially in the United States.
Slowing global markets, difficult market conditions such as non-liquid market conditions, fewer transactions, and low investor confidence can limit Carlyle's access to capital and adversely affect its overall business. Adverse market conditions can reduce Carlyle's ability to raise new capital or commitments for new or existing funds, liquidate its portfolio companies, or deploy capital in new assets or companies.
The value of Carlyle's holdings decreased substantially during the recession. Credit wasn't easily available in 2008 and 2009, and that restricted large transactions in private equity, global markets, and real estate.
Article continues below advertisement
Rising interest rates
Carlyle and other alternative asset managers create leverage in its invested or portfolio companies to generate higher equity returns. Interest rates have remained low since the 2007 crisis. If rates were to rise sharply in the future, the cost of capital for the portfolio company as well as for the Carlyle Group would increase. This would affect the performance of the company's various funds and Carlyle overall. Rising interest rates would also affect investing activity, likely resulting in fewer exit opportunities with high valuations.
The company also faces risks in deteriorating debt markets, a decline in the pace or size of its investments, the variable nature of cash flows, and non-liquid market conditions.