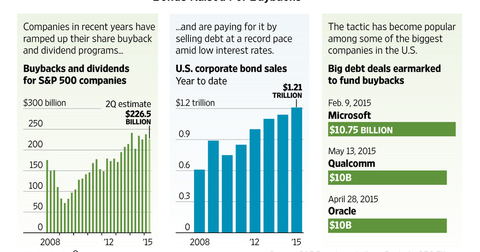 Why Bond Investors Are Skeptical about Oracle's Bond Issuance
By Anne Shields

Updated
Bond issuances fuel share buybacks
According to a Wall Street Journal report on September 21, 2015, many big US companies are increasingly heading towards the bond market to fund their dividend and share buybacks, thus benefiting their investors and shareholders. This move has agitated some debt investors. Previously in this series, we discussed Oracle's bond issuance to fund its share buybacks and dividend policy—the fourth largest bond deal in 2015.
The Wall Street Journal reported further that the proceeds from some of the largest bond issuances in 2015—namely, from Microsoft Corporation (MSFT), Qualcomm (QCOM), and Oracle Corporation (ORCL)—were directed toward share repurchases and dividends.
Article continues below advertisement
Investors alarmed by increased bond sales
Companies resort to buybacks because they boost share prices by reducing the number of shares available. Share buybacks are often employed by companies to lure shareholders, and industry analysts tend to take the view that these tactics could lead to an erosion of corporate financial health, because cash—funds that could have been used to fund debt repayments or investments to boost corporate earnings—is just being diverted.
Debt investors also show dislike towards debt-financed buybacks, as they are of the opinion that companies are resorting to debt in order to fund their buybacks and dividends. In effect, these companies are transferring capital from bondholders to shareholders, thereby increasing leverage without investing for business expansion.
On the other hand, activist investors have created louder cries for share buybacks, asserting that the companies are wasting funds rather than returning it back to shareholders. The extent of influence of activist investors and shareholder activism on companies can be gauged by the buybacks themselves, a key industry trend that has motivated further divestments to unlock shareholder value.
Elliott Management, an activist investment management firm, took a $1 billion stake worth ~2% in EMC Corporation in 2014, with the likely intention to urge EMC to spin off its 80% share in VMware (VMW). Share buybacks have, in fact, become so popular that Democratic Party presidential candidate Hillary Clinton even called for greater disclosure in buybacks. It's a growing concern that these buybacks come at the expense of long-term investment returns.
You can consider investing in the PowerShares QQQ Trust (QQQ) to gain exposure to Oracle. QQQ invests about 3.08% of its holdings in Oracle.
In the next and final part of this series, we'll look at how US corporate bond sales have reported record deals in 2015.