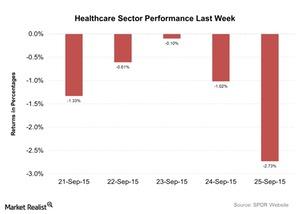 Biotech Stocks Took a Beating on September 25
By Renee Blakely

Updated
Stock market rose in early session
The SPDR S&P 500 ETF (SPY) took off in the early market session on Friday, September 25, 2015. The markets seemed hopeful after the speech from Federal Reserve chair, Janet Yellen, on Thursday, September 24, at the University of Massachusetts. Yellen said the rate hike could come sometime late this year.
The Commerce Department reported that the second quarter gross domestic product (or GDP) for the US was revised higher to 3.9%. This rise in GDP was the result of a rise in consumer spending and construction. Consumer spending was revised to 3.6% from an initial forecast growth of 3.1%. The consumer sentiment was revised to 87.2 for the month of September from the University of Michigan's last forecast of 85.7.
Article continues below advertisement
Healthcare sector woes
Hillary Clinton's take on the "price gouging" of specialty drugs is impacting the health sector severely. The above graph reflects this impact on the performance of the healthcare sector for the past week as per the SPDR S&P 500 Index.
It all started with the article in the New York Times that revealed the overnight price hike of a drug called Daraprim. The price of the drug rose from $13.50 to $750 a tablet, which increased the cost of medical treatment for some patients from hundreds to thousands of dollars. Hillary Clinton's tweet on this rise in prices and the unveiling of her plan to rein in prescription drug costs affected biotech stocks throughout the week.
Clinton indicated that pharmaceutical companies would come under greater scrutiny if she were to win the presidency. The biotech stocks affected were Vertex Pharmaceuticals (VRTX), Regeneron Pharmaceuticals (REGN), Alexion Pharmaceuticals (ALXN), Perrigo (PRGO), and Endo International (ENDP). These stocks fell by 7.05%, 6.00%, 4.97%, 4.94%, and 4.92%, respectively, on September 25. The Health Care Select Sector SPDR ETF (XLV) fell by 2.73% on the day.
In the next article, we'll look at the other sector performances on September 25.