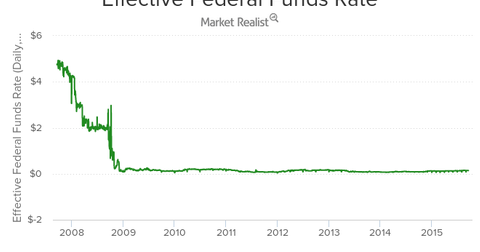 Benefit of Hindsight: The Fed Wasn't Going to Raise the Rates
By David Ashworth

Updated
September 2015 meeting
First, the rate hike was supposed to be in June 2015, given that 1Q15 was strong for the US economy. However, harsh winter weather took the blame for low consumer spending. As a result, there was slower economic growth and low inflation. The timing of the rate hike moved to September. Until about a month ago, it was assumed to be nearly certain that September was the month when the federal funds rate would get off the ground. There were all these positive statements about how well the US economy is placed for a rate hike.
[marketrealist-chart id=667676]
Article continues below advertisement
September 16 and 17 have come and gone, but the federal funds rate remains where it was when it was dropped to the 0%–0.25% level in December 2008. More surprisingly, several participants are saying that they knew the Fed wouldn't raise the rates. Some participants said that this was just another non-event.
[marketrealist-chart id=667677]
Benefit of hindsight
While some participants had maintained nearly throughout that the Fed shouldn't raise rates in September, there was a general perception that the Fed would in fact "liftoff" at this meeting.
Most of the latter category are basking in the sunshine of hindsight. If everyone had expected that there wouldn't be a hike in the interest rate, the September meeting wouldn't have become one of the most keenly awaited monetary policy meetings in recent memory. The otherwise fairly predictable outcomes weren't so predictable in this meeting. This makes the several claims of "I knew it" null and void.
What happened?
This is the question that we'll explore throughout this series. We'll look at various aspects of the Fed's statement. We'll also explore financial markets' reaction to the statement, both equity (SPY) and fixed income (BND). We'll see how financials and insurers like U.S. Bancorp (USB), Allstate (ALL), and Bank of America (BAC), among others, reacted to the statement.
First, we'll discuss the main reason why the Fed didn't pull the trigger in September.