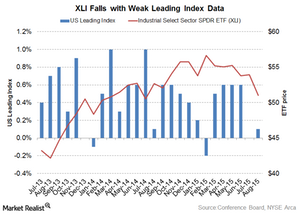 August US Leading Index Rose Slightly, Weak Industrial Production
By Lara Sheldon

Updated
US leading economic index rose 0.1% in August
According to the Conference Board, the US leading economic index (or LEI) rose 0.1 % in August 2015, compared with no change in July. This was below the consensus estimate of 0.2% and well below the 0.6% that was recorded in June 2015.
"The U.S. LEI suggests economic growth will remain moderate into the New Year, with little reason to expect growth to pick up substantially," said Ataman Ozyildirim, director of business cycles and growth research at the Conference Board. "Average working hours and new orders in manufacturing have been weak, pointing to more slow growth in the industrial sector. However, employment, personal income and manufacturing and trade sales have all been rising, helping to offset the weakness in industrial production in recent months."
Article continues below advertisement
XLI falls with weak leading index data
The Industrial Select Sector SPDR ETF (XLI) represents the industrial sector in the US. The top industries in this exchange-traded fund, covering 62% of its weight, include aerospace and defense, industrial conglomerates, and machinery.
With continued weaknesses in industrial production, the Industrial Select Sector SPDR ETF (XLI) has fallen 9.56% year-to-date as of September 21. The picture is not different for the industrial conglomerate stocks such as 3M (MMM) and General Electric (GE), which fell 3.89% and 3.80%, respectively, over the past year. Machinery stocks such as Caterpillar (CAT) and Cummins (CMI) were worst hit, falling 28.48% and 15.60%, respectively, as of September 21 over the past year.
However, some respite is being shown by aerospace and defense stocks like Boeing (BA) and Honeywell International (HON), which are up 5.76% and 3.21%, respectively, over the past year.
The LEI is a composite of the ten most significant economic indicators that enables investors to understand the future trends of economic growth. With no growth in July and below moderate growth in August, this index seems to state that the business climate and consumer sentiment remains gloomy. A strong dollar, falling crude prices, and volatility surrounding emerging economies are adding to the pessimism.
US existing homes sales data provides an indirect insight into economic activity, which we'll cover in the next article.