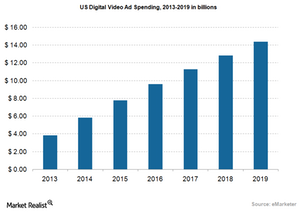 Audience Platform Is Twitter's New Mobile Ad Network
By Matilda James

Updated
Dedicated account managers for advertisers
Twitter (TWTR) has announced the launch of its new product, Audience Platform, an extension of its mobile ad network, Publisher Network. The new Audience Platform will allow Twitter to extend its advertising campaigns from the Twitter site or application to millions of other mobile apps (applications).
Publisher Network, launched last year, allows a select few marketers to carry out ad campaigns on Twitter through third-party apps. However, the new Audience Platform gives access to a wider group of advertisers who are assigned dedicated account managers at Twitter.
The company will also introduce new video ad features to reach out to a total of 700 million users—300 million on Twitter and 400 million on partner apps.
Article continues below advertisement
Autoplay video feature
In the second quarter of 2015, Twitter launched its autoplay videos. The videos play automatically on a user's timeline, but the videos are muted as the user scrolls down the timeline.
Twitter users can view video ads in full screen by clicking on them. Users have the option to revert to the old click-to-play feature in times of low bandwidth or high data rates. This feature is particularly useful for users in emerging markets (EEM) where Internet bandwidth speeds are low.
According to a report from eMarketer, and as the above graph shows, the US online video advertising market is estimated at about $7.7 billion this year. Twitter aims to leverage this lucrative market and attract more users to watch videos on its platform.
Twitter is not advertisers' first choice due to the huge popularity of Google's (GOOGL) YouTube and Facebook (FB). Both credit their dominance in the video advertising market to the number of users on their platforms.
How Twitter charges advertisers
Unlike Google and Facebook, Twitter will deploy third-party verification so advertisers know if the content is reaching the right audience. Google and Facebook use their own software to measure viewability, which has stopped some advertisers from buying view ads. Unilever (UN) is one of those advertisers that quit Facebook due to the lack of third-party verification.