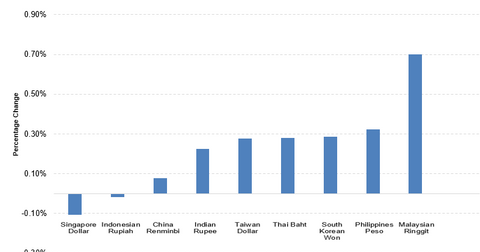 Asian Currencies Are Trading with a Slight Positive Bias
By David Meyer

Updated
Most Asian currencies are positive
Asia has been preparing itself to face the US rate hike since Ben Bernanke, the former Fed Chair, announced tapering as economic activity started increasing in the US. Asian countries resorted to steps like building up sizable forex reserves and devaluing currencies as the impending rate hike was getting closer and the possibilities of capital flight from these countries looms large. As a result, when the Fed announced that rate hike won't happen in September, the Asian currencies that had been on a downward trend, with slight expectations of a September rate hike, started showing some bounce back.
Article continues below advertisement
Most currencies rose
The bounce back of Asian currencies was led by the Malaysian ringgit and the Philippines peso. They rose by 0.70% and 0.32%, respectively, against the US dollar. The major loser in the pack was the Singapore dollar. Its fall was mainly due to domestic factors instead of a reaction to the Fed. Singapore's non-oil exports fell by -8.40% against a consensus of -3%. This put pressure on the US dollar and Singapore dollar currency pair.
The gains in the Asian currencies are expected to be short-lived. By October, there will be renewed speculations about the Fed raising the rates. Going forward, most major emerging economies' central banks will adjust their monetary policy stance with respect to the FOMC (Federal Open Market Committee) statement.
Impact on the market
Among the Asian ETFs, the SPDR S&P Emerging Asia Pacific ETF (GMF) fell by -0.40% on September 17, 2015, while the iShares MSCI All Country Asia ex Japan ETF (AAXJ) fell by -0.27%.
Looking at the major ADRs (American Depository Receipts) on September 17, Indian software company Infosys (INFY) fell by -0.67%. Chinese major Alibaba (BABA) also fell by -1.83%. Indonesian ADR, PT Telekomunikasi Indonesia Tbk (TLK) also followed the trend. It fell by -1.11%.