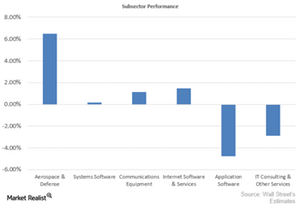 Application Software and Consulting Service Sector Is Falling
By Parker Thomas

Updated
Overview
In this series, we'll examine the performance of the cybersecurity stocks within the broad technology sector. We'll track the weekly performance of the PureFunds ISE Cyber Security ETF (HACK) and its components. HACK closed at $26.21 with a negative return of 3.36% on Tuesday, September 2, 2015. It generated a profit of 0.10% for the week.
On Tuesday, September 2, 2015, the technology sector remained down. The Technology Select Sector SPDR Fund (XLK), the Vanguard Information Technology ETF (VGT), the First Trust Dow Jones Internet Index Fund (FDN), and the iShares North American Tech-Software ETF (IGV) have generated -3.21%,-3.19%,-3.30%, and -2.88%, respectively.
Article continues below advertisement
Subsector performance
Application software is the worst performing sector. It generated a return of -4.75%. Within the sector, Gemalto (GTO) generated returns of -13.65% and Splunk (SPLK) generated a positive return of 0.73%. The next worst performing sector is the service sector. It generated a return of -2.88%. The service sector consists of Widepoint (WYY) and Science Application (SAIC). They're the most notable companies. They had a negative return of 5.17% and 8.24%, respectively.
Communication equipment showed a five-day, monthly, and yearly trailing return of 1.11%, -10.75% and 23.06%, respectively. Palo Alto Networks (PANW) showed a five-day trailing return of 2.18%. It was followed by Cisco (CSCO) and Juniper with 2.03% and 0.24%, respectively.
Palo Alto and VMware have collaborated to deliver a solution that provides comprehensive security and operational flexibility. It can help accelerate the application deployment. Palo Alto Networks also collaborated with AirWatch to deliver an integrated solution to business users with secure access to both the on-premise and cloud app from mobile devices at the same time. It secures corporate data from a security breach.
Gemalto is launching the industry's first LTE category wireless module to leverage highly efficient 4G LTE connectivity. It's specially designed to meet the market needs for M2M (machine-to-machine) and industrial IoT (Internet of Things) applications. The new Cinterion M2M will optimize the performance. It will provide the ideal solution for IoT applications.