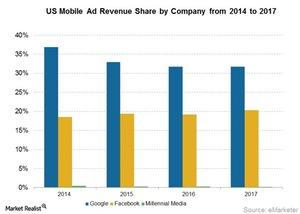 AOL Seeks Mobile Ad Revenue with Millennial Media Acquisition
By Shirley Pelts

Oct. 2 2015, Updated 2:07 p.m. ET
About Millennial Media
Millennial Media (MM) offers various mobile advertising platforms to advertisers and publishers alike. App developers use the company's data analytics technology across 65,000 apps. The company has developed more than 700 audience categories to enable advertisers to offer targeted ads.
Millennial Media has also developed a cross-screen device map that allows advertisers to offer the same ad to the same user across multiple devices such as cell phones, tablets, and laptops. According to comScore, there are 100 million cross-screen users in the US. The company also offers a Millennial Media Exchange—an ad exchange that enables advertisers to bid in real time to offer targeted ads.
Article continues below advertisement
According to a September 2015 eMarketer report, Google (GOOG) and Facebook (FB) are together expected to command approximately a ~52% share of mobile ad revenues in the United States in 2015. You can gain diversified exposure to Facebook by investing in the iShares S&P 500 Index ETF (IVV), which has 1.12% of its holdings in the stock. The same ETF has 2.04% of its holdings in Microsoft (MSFT).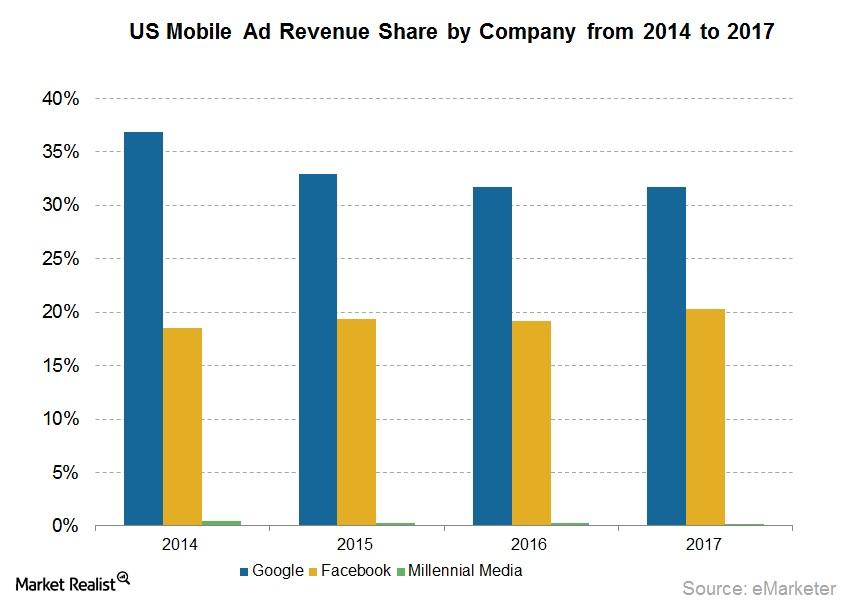 As the above chart indicates, Google is expected to have a mobile ad revenue share of 33% in 2015, and Facebook is expected to have a mobile ad revenue share of 19.4%. In contrast, Millennial Media is expected to corner a miniscule 0.3% mobile ad revenue share in 2015.
Will AOL be able to counter Google with its Millennial Media acquisition?
The Millennial Media acquisition will enable AOL to strengthen its suite of product offerings for advertisers, especially when it comes to mobile advertising. However, it will be difficult for AOL to counter the bigger market players such as Google and Facebook.
This is because Google and Facebook also own the businesses monetized through digital ads. For example, eMarketer expects a majority of Google's US digital ad revenue—36.6%—to come from its search business in 2015. Facebook is also expected to monetize its newer businesses such as WhatsApp and Facebook Messenger through ads.
In this scenario, it would be difficult for AOL to counter the major players in this market.