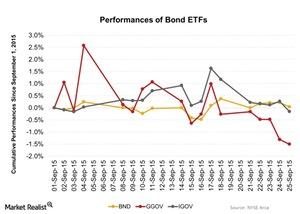 Anticipation of Quantitative Easing Extension May Lift German Bonds
By Renee Blakely

Updated
Top stocks of the day
Arm Holdings (ARMH) was the top gainer of the iShares MSCI United Kingdom ETF (EWU) on September 25 with returns of 5.99%. Johnson Matthey (JMAT) and Unilever (UL) followed with gains of 4.84% and 4.41% on the day. With the anticipated shift of the smartphone industry towards using multi-core processors, the semiconductor industry stands to benefit. ARMH, which is already involved in the development of processors, will widely benefit from this smartphone technology shift, as its revenue scope will widen. Stifel has rated ARMH a "buy."
The financial sector was very upbeat on the day. The stocks of Prudential (PRU), Barclays (BCS), and HSBC Holdings (HSBC) rose by 3.61%, 3.45%, and 3.18%. The telecommunication industry also registered gains with BT Group rising by 3.05% and Vodafone by 2.47%.
Article continues below advertisement
German debt securities rallied in anticipation of ECB's asset purchase extension
The graph above shows the price movement of German bond ETF, the ProShares German Sovereign/Sub-Sovereign (GGOV), versus various international bonds' ETFs like the Vanguard Total Bond Market ETF (BND) and the iShares International Treasury Bond (IGOV).
The Fed's decision to delay a rate hike in the United States has prompted the European Central Bank to consider proactive steps regarding the strengthening of the euro against the US dollar. As per the European Union Statistics Office's report, the economic growth observed was higher in the second quarter, and that export was the key driver. The region's exports to the US rose 20% in the quarter as against the previous year's quarter. Thus, the balancing of the euro-dollar exchange rate is vital to the European countries.
Therefore, the ECB may be prompted to either extend the asset purchase program (or quantitative easing) further or lower the interest rates. The Eurozone is already a zero-bound interest rate region. Thus, there is more likelihood of expansion in the asset purchase program. This move is expected to bring about a rise in the region's bond and stock securities. In fact, the anticipation of the further quantitative easing led to the rally of the German debt securities on September 16 and 17, 2015.
For more information on quantitative easing at ECB's September meeting, read our series, September ECB Meeting Hints at More Quantitative Easing.