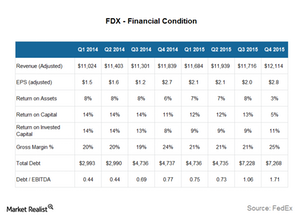 Analyzing FedEx's Financial Condition at the End of 4Q15
By Ally Schmidt

Updated
Earnings and profitability
FedEx (FDX) has had a successful comeback in the last few years. Its revenue grew from $9 billion in 4Q10 to $12.31 billion at the end of 4Q15. This growth was accompanied by an improvement in the return ratios as well. However, in the last few quarters, the return ratios have fallen due to aggressive investment in acquisitions and investment expansions. The company's operational efficiency can be seen from its improving margins. The company's gross margins have improved by 5% in the last two years.
Article continues below advertisement
High debt levels
FedEx acquired Bongo International for $42 million in December 2014 and GENCO for $1.4 billion in January 2015. It offered to buy TNT Express for $4.8 billion in April this year. All of these expansions are funded partly by cash. The remaining expansions are funded by long-term debts and other financial arrangements. This has resulted in a rapid rise in the company's debt within the last couple of years. Its debt-to-EBITDA (earnings before interest, tax, depreciation, and amortization) ratio rose from 0.77 in 4Q14 to 1.71 in 4Q15. This is lower than rival UPS's 1.7x. However, adjusted for operating leases, the situation is reversed. FedEx's debt-to-EBITDA levels rose to 2.96 compared to UPS's 1.86x.
Logistics providers Expeditors International (EXPD) and Con-way (CNW) also have high debt-to-EBITDA levels of 1.37 and 1.49, respectively. FedEx forms the largest holding of 13.14% in the iShares Transportation Average ETF (IYT).
Strong liquidity
Despite high debt levels, the company has been able to maintain decent liquidity levels. This is evident from its liquidity ratios. The company's cash ratio stood at 0.66. This is good considering the capital-intensive nature of the business. The current and quick ratios stood at 1.84 and 1.59, respectively. This indicates strong liquidity to cover current liabilities.
As a result, the new acquisition should add to the company's synergies in the coming years. Then, we would see long-term improvement in the company's return and liquidity ratios. Despite the short-term depressed ratios, these acquisitions will benefit FedEx with stronger top line growth.