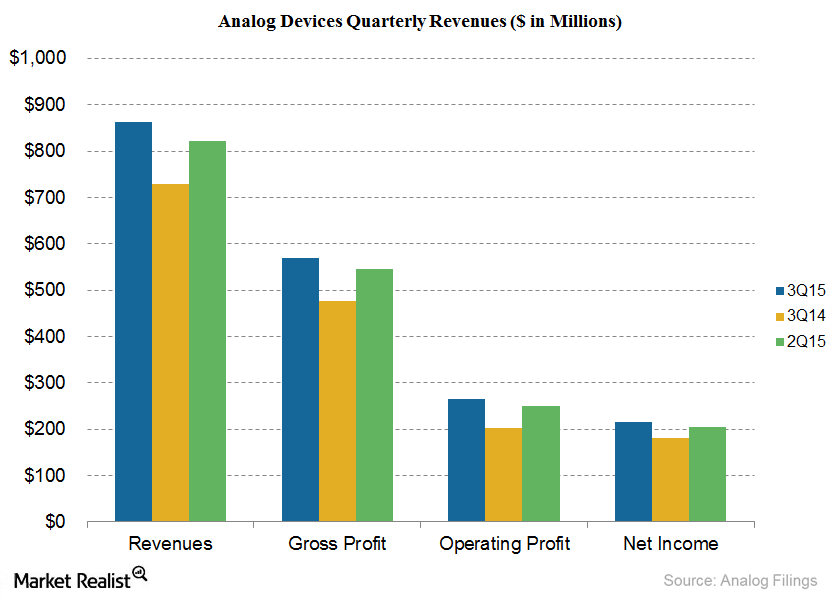 Analog Devices Announces 3Q15 Results, Beats Estimates
By Adam Rogers

Sep. 25 2015, Updated 2:22 p.m. ET
About Analog Devices
Analog Devices is an American-based semiconductor company. It specializes in data conversion and signal conditioning technology. It's headquartered in Massachusetts. It was founded in 1965. The company manufacturers analog, mixed-signal, and digital signal processing integrated circuits used in electronic equipment.
Analog Devices has a customer base of over 70,000. Its business is divided into the following segments:
Communications
Computer
Industrial
Instrumentation
Military
Automotive
Electronic Appliances
Article continues below advertisement
3Q15 results
On August 18, 2015, Analog Devices (ADI) declared its 3Q15 results and reported revenues of $863 million, an 18.54% increase year-over-year (or YoY) compared to revenues of $728 million in 3Q14. Generally accepted accounting principles (or GAAP) net income for 3Q15 was $216 million, and earnings per share (or EPS) amounted to $0.68 per diluted share. This was a 19.33% YoY increase compared to net income of $181 million and EPS of $0.57 in 3Q14. Analysts expected revenues to be in the area of $845.43 million. In comparison, peer companies Texas Instruments (TXN) and Microchip (MCHP) reported revenues of $3.2 billion and $534 million in the last quarter, respectively.
ADI's margin for 3Q15 was 66.1% whereas operating margin was 34.2%. Analog devices had $3.10 billion in cash and short-term investments at the end of 3Q15 compared to $4.93 billion at the end of 3Q14.
"We had a very strong third quarter, with revenue growing to a record $863 million and earnings at the very high end of expectations," said Vincent Roche, president and CEO. "Once again this quarter, our focus on sustainable innovation that bridges the physical and digital worlds across diverse applications and markets, coupled with strong execution throughout the Company, delivered solid growth and profits."
Analog comprises 0.10% of the iShares Core S&P 500 ETF (IVV) and 0.47% of the Technology Select Sector SPDR ETF (XLK).