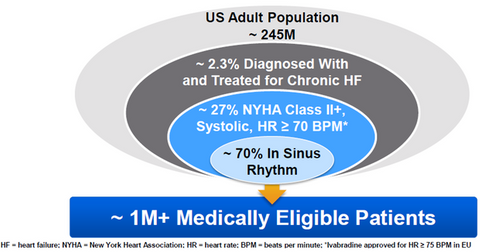 Amgen Launches Corlanor, Chronic Heart Failure Drug
By Margaret Patrick

Sep. 10 2015, Updated 8:06 p.m. ET
Chronic heart failure drug
In the first quarter of 2015, Amgen (AMGN) launched Corlanor, a drug for chronic heart failure, or CHF. Corlanor is the first new medicine launched in the US for CHF in the last decade.
According to WebMd, "Heart failure does not mean the heart has stopped working. Rather, it means that the heart's pumping power is weaker than normal." This means that the body does not get the required amount of nutrients and oxygen, which in turn causes the heart muscles to expand to hold more blood for pumping. Subsequently, these muscles weaken and cause the kidneys and other organs to retain water and salts. The above graph shows that there is a large US market of about 1 million patients who can currently be treated by Amgen's Corlanor to prevent hospitalization.
Article continues below advertisement
Corlanor
In April 2015, Amgen's Corlanor, generic name ivabradine, was approved by the Food and Drug Administration, or FDA, for patients suffering from CHF who have a resting heart rate of at least 70 beats per minute and take beta blockers at the highest possible dosage levels. The drug is also approved for patients who cannot tolerate beta blockers. According to WebMd, "Beta blockers work by blocking the effects of epinephrine (adrenaline) and slowing the heart's rate, thereby decreasing the heart's demand for oxygen. Long-term use of beta blockers helps manage chronic heart failure."
More than 10% of elderly CHF patients are wrongly prescribed or cannot tolerate beta blockers. In such patients, Corlanor helps to reduce a fast heart rate, a major symptom of CHF. According to Corlanor's phase III trial data, called SHIFT, Corlanor significantly reduces the risk of death or hospitalization arising from any cardiovascular disease. Based on its superior clinical trial data, Corlanor will likely be tough competition for existing drugs such as Pfizer's (PFE) Altace, GlaxoSmithKline's (GSK) Coreg, and Novartis's (NVS) Diovan.
Marketing strategy
As a part of its marketing strategy, Amgen promotes Corlanor among high prescribers such as cardiologists, endocrinologists, and diabetes and lipid physicians in hospitals, heart failure clinics, and integrated delivery networks. Additionally, the company focuses on establishing alliances with heart disease professional associations.
Investors can get diversified exposure to Amgen's Corlanor, yet avoid unique company risks, by investing in the iShares NASDAQ Biotechnology ETF (IBB). IBB invests 8.53% of its total holdings in Amgen.