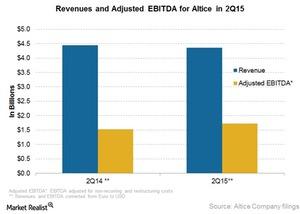 Altice Looking to Expand from Europe to the US
By Shirley Pelts

Updated
Acquisitions a core part of Altice's strategy
Altice is a French company founded by Patrick Drahi. Altice provides cable, Internet, and mobile services to residential and business customers in Western Europe (France, Portugal, Belgium, Luxembourg, and Switzerland), Israel, and the overseas territories including the French Caribbean, the Indian Ocean regions, and Dominican Republic.
Acquisitions have been a core part of Altice's rapid growth strategy in the European cable market. Altice has completed a string of acquisitions in Europe including that of Portugal Telecom and acquisition of a major ~70% share in Numericable-SFR. Numericable-SFR is ranked second in France's (EWQ) mobile phone market. Orange (ORAN) is the leader in this market.
In June this year, Altice's Numericable-SFR had also made a $11.2 billion bid for Bouygues Telecom, which was subsequently rejected by Bouygues Telecom. If the bid had been accepted, the combined entity would have been the largest mobile phone operator in France.
As the above chart indicates, Altice had revenues of $4.3 billion (or €3.9 billion) in 2Q15 and Adjusted EBITDA of $1.7 billion (or €1.5 billion). Revenues declined by a marginal 2% year-over-year while adjusted EBITDA was up by 13% in 2Q15.
Article continues below advertisement
Altice looking to expand its footprint to US
As a continuation of its core strategy, Altice is looking to acquire a foothold in the United States as the European cable industry is undergoing a consolidation.
Before acquiring Cablevision (CVC) on September 17, Altice had made a bid for another cable player in the market, Suddenlink. In May this year, Altice had made a bid for a majority 70% stake in Suddenlink for $9.1 billion. Suddenlink is a mid-sized cable company ranked the seventh largest cable operator in the United States. The deal is expected to close by the end of this year.
At the time of the Suddenlink deal, it was widely speculated that Altice could make a bid for Time Warner Cable (TWC) next. However, Time Warner Cable was later acquired by Charter Communications (CHTR). You can gain diversified exposure to Time Warner Cable by investing in the iShares Russell 1000 Growth Index ETF (IWF), which maintains 0.52% of its holdings in the stock.
Altice's acquisitions are largely financed by aggressive debt. As of June 30,2015, Altice had $33.4 (or 30 billion euros) of debt on its balance sheet.