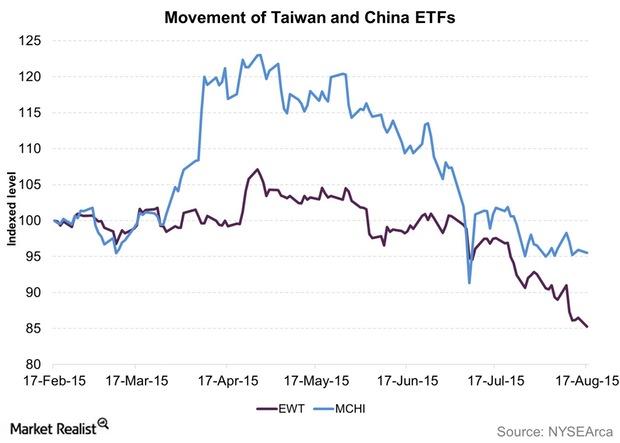 How Did the Yuan's Devaluation Hurt Taiwanese Equities?
By David Ashworth

Aug. 18 2020, Updated 5:26 a.m. ET
Trade deficit
We explored the impact of the correction in Chinese stocks and the yuan devaluation on South Korean equities in the previous article. The trade situation and the reaction of Taiwanese equities have been very similar to that of South Korean stocks.
Similar to the situation with South Korea, China maintains a trade deficit with Taiwan and imports more from Taiwan than it exports. China's trade deficit with Taiwan stood at $105.7 billion in 2014. From January to July 2015, China's exports to Taiwan rose 0.9% from the same period a year ago.
Meanwhile, its imports from Taiwan fell 4.1% in the period. Due to this, China's trade deficit with Taiwan fell 6.2% in the period. A falling trade deficit and a rising trade surplus both are generally positive for a country.
Article continues below advertisement
Equities' reaction
We'll compare the iShares MSCI Taiwan ETF (EWT), the most liquid ETF focusing completely on Taiwanese equities, with the iShares MSCI China ETF (MCHI). Both invest in large- and mid-cap companies and give access to 85% of the stock market of their respective geographies.
Taiwanese equities fell after Chinese stocks witnessed a correction toward the end of June and in July. However, the reaction was not very sharp.
However, the reaction to the yuan's devaluation has been very strong. Because Taiwan exports more to China than it imports, this devaluation meant that Chinese goods—especially electronic goods—would pose major competition to Taiwanese manufactured products.
Taiwan is known for its electronic products to such an extent that technology-related stocks form over half of EWT's portfolio. These stocks include United Microelectronics Corporation (UMC), AU Optronics (AUO), Advanced Semiconductor Engineering (ASX), and Taiwan Semiconductor Manufacturing (TSM). Increased competition from China would impact company revenues.
Already slumping exports led the Taiwanese economic growth estimate for 2015 to be slashed to nearly half of its previous estimate of 3.3%. A further fall in exports could further reduce the economic growth of Taiwan.
In the next article, we'll move on to Singapore.