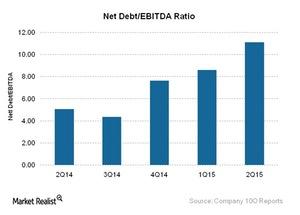 Will Diamond Offshore's Financial Health Further Deteriorate?
Leverage
In this downturn, it is very important to determine whether Diamond Offshore (DO) is in a position to pay off its short-term and long-term debt with its operational cash flows. A company failing to do so has a higher chance of bankruptcy as leverage magnifies risk in a sluggish market. We will examine the financial health of Diamond Offshore by looking at its net debt-to-EBITDA and liquidity ratio.
Article continues below advertisement
Net debt-to-EBITDA ratio
The net debt-to-EBITDA (earnings before interest taxes depreciation and amortization) ratio of Diamond Offshore (DO) tells us the number of years the company would take in order to pay off its debts if the EBITDA remains at the same level. Diamond Offshore's (DO) total debt of $2,244 million remained constant for the three quarters until 1Q15. In this quarter, the company utilized short-term debt of $500 million.
As the EBITDA has been decreasing, the net debt-to-EBITDA ratio is increasing. This ratio for 2Q15 is 11.08, which suggests that the company will need more than 11 years to pay off the debt completely if its EBITDA remains at the same level. The company's 25% debt is short term, which it must pay off before the end of 2015. Similarly, the company's 20% of total debt will mature in 2019.
Article continues below advertisement
Liquid ratio
Given the steep decline in the liquidity ratios, and as the 2Q15 ratio of 0.8 hints, the company may face a liquidity crunch in the near future. As the current assets of the company are not sufficient to finance its liquid liabilities, the company may need to utilize its revolving credit facility. The company has $1.5 billion in unsecured revolving credit.
Credit ratings
Due to the deteriorating leverage and liquidity position, Standard & Poor's lowered Diamond Offshore's credit rating from A- to BBB+ in April 2015. Even after the company was downgraded, it still has one of the highest credit ratings in the offshore industry (OIH).
Ensco (ESV) has a credit rating of BBB+, and Noble Corp. (NE) and Rowan Companies (RDC) each have a rating of BBB-. Transocean (RIG) is also rated below investment grade with a rating of BB+.