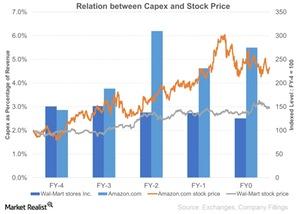 Walmart Versus Amazon: Future Prospects
By Mark Jonker

Updated
Where are these two companies heading?
When it comes to the future prospects of Walmart and Amazon, it is important for investors to look at the nature of their businesses. On one hand, companies like Walmart (WMT) and Macy's (M) operate their businesses through their numerous retail stores. On the other hand, Amazon (AMZN) and eBay (EBAY) drive their revenues through online sales.
Amazon's high growth potential is a result of the increasing e-commerce trends on a global level and the penetration of smartphones and Internet in urban and rural areas. In contrast, traditional brick and mortar retail companies are still dependent on increases in same-store sales and square footage area for their growth.
While macroeconomic factors like consumer confidence and increase in purchasing power are important for any retail company to grow, micro factors like high quality management decisions, optimal utilization of resources, and organic growth are equally important.
Article continues below advertisement
Productive capex (capital expenditure) is one paramount component for the future of the companies. When a company starts accumulating cash or starts diverting a higher percentage of funds towards unproductive areas like dividends and share buybacks, it raises a red flag. Amazon has been instrumental in this area, as a major part of its earnings are invested in new markets as well as new businesses. AWS (Amazon Web Services) is a by-product of these investments that grew 81% to $1.8 billion in 2Q15.
As the above chart shows, investors see capex as a growth indicator. Walmart (WMT) has also understood this relationship and has started investing heavily in e-commerce and other businesses and markets. For example, Walmart increased its ownership in Yihaodian, a rapidly growing e-commerce website in China to almost 51%.
A crucial part of the road ahead for these two companies or any other retail company in the SPDR S&P Retail ETF (XRT) will lie in productive, growth-oriented investments.