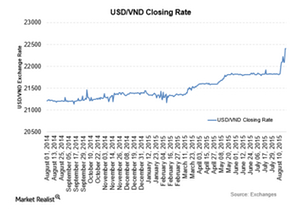 Vietnamese Dong Devalues by 1%
By David Meyer

Aug. 21 2015, Published 1:27 p.m. ET
State Bank of Vietnam devalues dong, increases trading band
The State Bank of Vietnam devalued the dong by 1% to bring the reference rate of the US dollar to the Vietnamese dong to 21,890. The Vietnamese currency moves on a daily basis in a pattern, similar to its Chinese counterpart, where a midpoint rate is defined daily as the vertex between limited upward and downward moves.
The act is seen as a response to the devaluation of the Chinese yuan as the country takes action to support the export sector. The intraday trading band, which increased from 1% to 2% last week, was further expanded to 3%, making the currency more market-driven.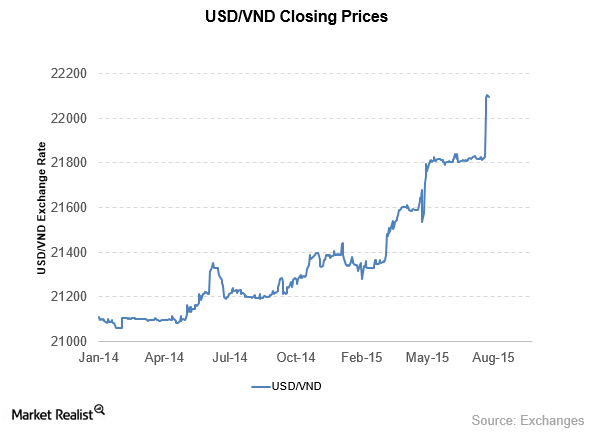 Article continues below advertisement
Growth in exports remains a concern
The devaluation in the Vietnamese dong is the third instance in which the State Bank of Vietnam has guided its currency downward, after January and May. Earlier this month, Vietnam recorded a PMI (purchasing managers' index) of 52.6 in July.
This showcased the expansion in its manufacturing sector and placed it above most of its peers in the Association of Southeast Asian Nations (or ASEAN). Export growth, however, has slowed to 9.5% this year until July, while the trade deficit stood at $300 million.
Impact on the market
At the market close on August 19, 2015, the VanEck Vectors Vietnam ETF (VNM) closed down by 2.98%. The iShares MSCI Emerging Markets Asia ETF (EEMA) also closed 1.14% lower.
The South Asian ADR (American depository receipt) PT Telekomunikasi Indonesia Tbk (TLK) fell by 0.74% while Taiwan Semiconductor Manufacturing (TSM) closed down by 0.60%.
Philippine Long Distance Telephone (PHI), on the other hand, closed up by 1.73%.