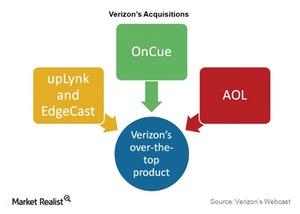 Verizon Set to Launch Over-the-Top Service Soon
By Ray Sheffer

Dec. 4 2020, Updated 10:53 a.m. ET
Verizon's over-the-top service
In the earlier parts of this series, we looked at Verizon's new wireless offering. Now we'll turn to look at some of the other key points raised by Verizon at the Oppenheimer 18th Annual Technology, Internet & Communications Conference held on August 11, 2015.
Verizon's planned launch of its OTT (over-the-top) offering remains some time in late summer. During the event, David Small, Verizon Wireless's COO, said, "You can expect that towards the latter part of the summer and in that particular regard, we feel very good about it. It's not just for Verizon Wireless consumers; it will be for all mobile subscribers who want to take advantage of video on the go."
Article continues below advertisement
Verizon is leveraging its acquisitions of AOL, upLynk, OnCue, and EdgeCast for its new OTT service. The multi-device video encoding service upLynk and the content delivery network EdgeCast have boosted Verizon's capabilities to distribute video content efficiently. And OnCue used to be Intel's (INTC) Internet TV service.
You should note that upLynk is also used by companies such as Walt Disney (DIS).
According to Verizon, the new OTT service will leverage AOL's content as well as its advertising capabilities. It has signed content deals with players including Scripps Network (SNI), AwesomenessTV, Vice, and DreamWorks for the new OTT service.
Verizon's over-the-top service to be called "Go90"
According to Variety.com, the Verizon OTT service is called Go90. A recent article reports that Verizon inadvertently leaked some key information about its new service on its site. "The website states that Go90 will deliver 'live music, exclusive events, best of web content, sports, prime time and more.' Users will be able to watch 'full length shows and short highlights, all for free,' the site boasts elsewhere."
You may invest in Verizon while diversifying your risk by investing in the iShares MSCI USA Minimum Volatility ETF (USMV). The ETF had ~1.4% exposure to the telecom company as of July 31, 2015.