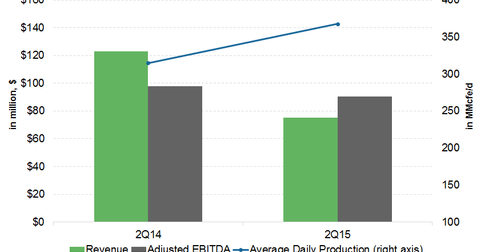 Vanguard Natural Resources: 2Q15 Operating Results in Detail
By Kurt Gallon

Updated
Vanguard Natural's revenues
Vanguard Natural Resources' (VNR) 2Q15 revenues fell to $75 million from $123.1 million in 2Q14. That's a YoY (year-over-year) decline of ~39.1% and the result of lower crude oil (USO), natural gas prices (UNG), and NGL (natural gas liquid) prices.
Article continues below advertisement
VNR revenue drivers 
Excluding hedges, VNR's average realized sale prices for natural gas, crude oil, and NGL (natural gas liquid) fell from $3.55 per Mcf (million cubic feet), $91.74 a barrel, and $25.49 a barrel in 2Q14 to $1.69 per Mcf, $50.85 a barrel, and $14.98 a barrel in 2Q15, respectively. Lower average NYMEX prices precipitated the decrease in average realized oil and natural gas prices.
In terms of hedging activity, Vanguard natural resources lost $20.8 million on oil and gas derivatives in 2Q15 as compared to a $38.4 million loss in 2Q14.
Lastly, VNR's total production increased to 33,154 MMcfe (million cubic feet equivalent) in 2Q15, up from 28,664 MMcfe in 2Q14. Greater natural gas production accounts for the increase. VNR's average daily production increased to 368 MMcfe per day from 315 MMcfe per day during the same time frame. Its greater levels of natural gas production came about from acquisitions completed in 2014.
Article continues below advertisement
Vanguard Natural's adjusted EBITDA
VNR's adjusted EBITDA (earnings before interest, taxes, depreciation, and amortization) decreased 7% YoY in 2Q15, from $97.7 million to $90.6 million. The adjusted EBITDA excludes $733.3 million in impairment charges, which means a net loss of $793.6 million in 2Q15. Less revenue resulting from lower average realized sale prices drove the firm's EBITDA down. The partnership's 2Q15 EBITDA exceeds its revenue because it includes the impact of net cash settlements on matured commodity derivative contracts.
Peer comparison
VNR's peers Legacy Reserves (LGCY) and Memorial Production Partners (MEMP) saw their respective 2Q15 adjusted EBITDA decline by 0.02%, and 1.9% YoY. Meanwhile, Atlas Resource Partners (ARP) saw its adjusted EBITDA increase by a marginal 0.58%.
VNR constitutes 3% of the First Trust ISE-Revere Natural Gas ETF (FCG).