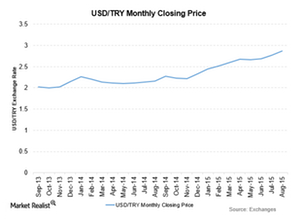 Turkish Lira Sinks to Record Lows against the US Dollar
By David Meyer

Updated
Turkish lira sinks to all-time low against US dollar
The Turkish lira fell to historical lows against the US dollar to 2.87 on August 17, 2015. The currency was caught in a heavy sell-off experienced by major emerging markets after the Chinese yuan depreciated. Political uncertainty in Turkey added fuel to the fire due to the growing conflict between Ankara and Kurdish militants across the state. International intervention to combat the Islamic State of Iraq and the Levant, ISIL, pushed the Turkish currency farther down.
Please see Asian Currencies Follow China's Cue of Yuan Devaluation for the effect of last week's Chinese yuan devaluation on Asian currencies.
Article continues below advertisement
Turkish central bank expected to hold rates
The Central Bank of the Republic of Turkey (CBRT) is expected to keep repo rates at the current level of 7.5%. A depreciating lira is causing imports to become more expensive. Also, core inflation currently stands at 7.3%, far from the central bank's target of 5%. The inflationary pressure might warrant a rate hike, but for now, the consensus is that the Central Bank will maintain its rate, which could result in the lira falling to new lows.
Impact on the market
The iShares MSCI Turkey ETF (TUR) fell by -1.73% due to a massive sell-off in the lira. On the broad-based side, the iShares Europe ETF (IEV) fell 0.36%.
Examining American depository receipts (ADRs) trading in the United States, we see that Turkcell Iletisim Hizmetleri AS (TKC) fell 0.38%.
European ADRs Deutsche Bank AG (DB) and Barclays PLC (BCS) fell -0.83% and -0.35%, respectively.