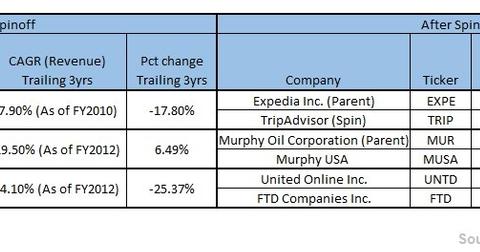 SUPERVALU's Spin-Off and the Creation of Value
By Mark Jonker

Updated
SUPERVALU's spin-off
Recently, SUPERVALU (SVU) announced that it's planning to spin off its most valued segment—Save-A-Lot. It's comprised of 1,300 discount grocery stores. After this announcement, there was a rush to buy SUPERVALU stock. It rose 17% and closed at $8.60 on July 28, 2015. The reason behind the rally can only be understood if we discuss what a spin-off is and how it adds value.
Article continues below advertisement
Value addition from the spin-off
The spin-off of a company is a tactical move by its management to separate a part or segment to create a different public company. It creates value for both the parent company and the spin-off—in this case, SUPERVALU and Save-A-Lot stores. This move is mainly taken to streamline the business in such a way that both the parent and the spin-off profit from the action. More focus can be given individually for both companies' future growth.
Investors always have an eye on such a move by a company's management. Historically, when such an announcement is made, the stock price rallies in anticipation of higher value creation by the spin and the parent. In 2011, when Expedia (EXPE) announced its plans to spin off TripAdvisor (TRIP), the company's shares rose by 14% in after-hours trading. They rose in anticipation of the value addition that would be created by the spin-off. It would be interesting to see how the parents and the spin-offs have performed over the years before and after the companies are split.
As you can see in the above chart, all of the successful spin-offs have been able to extract high value for the parent and the spin-off. So, we need to analyze SUPERVALU and Save-A-Lot separately to see what factors can work for this spin-off and what can go against it.
SUPERVALU forms a part of the SPDR S&P Retail ETF (XRT) with an exposure of ~1.06%. Other food retailers in XRT are Whole Foods Market (WFM), Kroger (KR), and The Fresh Market (TFM).