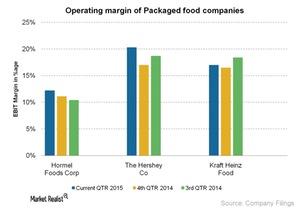 Rising Meat Prices Force Strategy Changes for Kraft and Hershey
By Sushree Mohanty

Updated
Effect on margin
Meat-producing companies and companies using meat-based products saw improved operating margins this year, due to rising prices for proteins such as semi-processed chicken and beef products. The relative value of these proteins compared with other meat increases the demand for them, improving the margin.
The lower grain-based animal feed prices also helped these companies stabilize or increase their margins. The chart below shows this effect on packaged food companies.
Article continues below advertisement
Company overview
Kraft Foods (KRFT) is a consumer packaged food and beverage company that manufactures and markets a variety of foods, including meat and beverage products. The Vanguard Consumer Staples ETF (VDC) holds 2.65% of this stock and 1.01% of one of its major competitors, ConAgra Foods (CAG).
Hormel Foods (HRL) is a producer of a range of meat and food products. The company markets these products throughout the US and internationally. The Consumer Staples Select Sector SPDR ETF (XLP) holds 0.63%, and the SPDR S&P 500 ETF (SPY) holds 0.04% of this stock.
Hershey (HSY) manufactures, imports, markets, distributes, and sells confectionery products. The Consumer Staples Select Sector SPDR ETF (XLP) holds 0.87% of this stock.
Pricing strategies
Kraft Foods (KRFT) opted for a pricing strategy to increase prices on its meat product line to meet its increased costs.
Hormel Foods (HRL) also opted for a new production innovation strategy by introducing a product that highlights protein and portability. It also meets consumer demand for fewer and simpler ingredients with improved flavor.
Hershey (HSY) bought Krave Jerky this year to enter the jerky meat category. The company had been struggling with the rising prices of chocolate and dairy products.