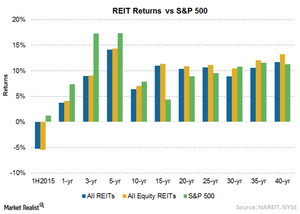 REITs Provide Better Returns than Other Asset Classes
By Peter Barnes

Sep. 3 2015, Updated 10:06 a.m. ET
REITs have characteristics of both equities and bonds
REITs are introduced to provide investors with long-term rates of return that are competitive with other asset classes like bonds and equities. Interestingly, the returns from REITs often resemble the characteristics of both equities and bonds. REITs receives regular income mainly through leases. This is similar to bonds. In contrast, REITs experience earnings growth through a rise in business activities, just like an equity.
For investors in REIT shares like Simon Property Group (SPG), Equity Residential (EQR), and Public Storage (PSA), sources of income are stock price appreciation as well as dividend yield—much like equities and bonds. In contrast, like equity returns, REITs can also see downside and volatility.
Article continues below advertisement
REITs' performance is marginally better
During the boom time, residential as well as commercial real estate give much higher returns than many other asset classes. In the long run, many investors viewed real estate as a slow growth asset class with an average return profile. However, data shows that equity REITs have outperformed the broader market over the 15, 20, 25, 35, and 40-year periods. Although the REITs have performed better than other asset classes, their outperformance isn't significantly higher.
Housing crash impacted REITs
During the housing crash, the sector underperformed the broader market indices. REIT shares were significantly impacted by the recession and credit crunch. However, REITs bounced back after 2010 to give a five-year annual return of 14.36%. More investors were looking for safety and dividends. Despite the bounce back, the real estate sector hasn't picked up steam yet. This resulted in REITs underperforming broader market indices with a three-year annual return of 9.06% compared to 17.31% by the S&P 500.
Investors looking for diversification in the REIT sector can get exposure to REIT ETFs like the Vanguard REIT ETF (VNQ), the iShares U.S. Real Estate ETF (IYR), and the iShares Cohen & Steers REIT ETF (ICF).