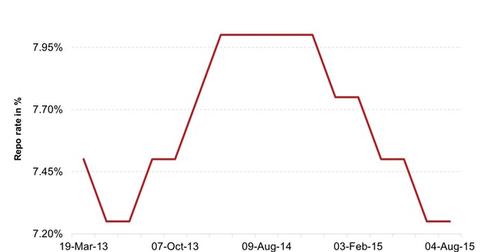 The Reserve Bank of India's 2015 Surprise Policy Actions
By David Ashworth

Updated
India's repurchase rate
Every country has a key monetary policy rate that headlines its central bank's policy action. For the US, it's the federal funds rate. For Brazil, it's the SELIC (Special Clearance and Escrow System). But for India, it's the repo, or repurchase, rate.
The repo rate is the rate at which India's central bank, the RBI (Reserve Bank of India), lends money to Indian commercial banks. Changes in these rates are also used to signal increases or decreases in rates to commercial banks. A reduction in rate by the central bank, for example, is a cue for commercial banks to reduce their rates.
The rate in the graph below is based on per policy announcements and not on specified periods.
Article continues below advertisement
When three cuts are not enough
At the dawn of 2015, India's repo rate stood at 8%. Now, four scheduled meetings and two unscheduled announcements later, its repo rate stands at ~7%. The last time the RBI met in a scheduled meeting was on August 4, 2015, but after discussions it kept the rate unchanged.
The 75 bps (basis points) reduction happened in three cuts of 25 bps each. One basis point equals one one-hundredth of 1%. For example, 1% = 100 bps.
The first cut in 2015 came in an unscheduled announcement on January 15. The second cut came in another unscheduled announcement on March 4, while the third cut took place after a scheduled meeting on June 2.
There were calls for yet another rate cut when the RBI's board met earlier in August, but policymakers decided to maintain the status quo at that time.
The impact of RBI's rate cuts
Indian banks like ICICI Bank Limited (IBN) and HDFC Bank Limited (HDB) are directly influenced by any rate changes by the RBI. Such policy actions affect not only the Indian rupee but also companies like Infosys Limited (INFY). In turn, India-focused ETFs like the WisdomTree India Earnings Fund (EPI) and the PowerShares India Portfolio (PIN) also feel the effects of rate changes.
In the next article of this series, we'll explore the reasons behind the RBI's policy actions so far in 2015.