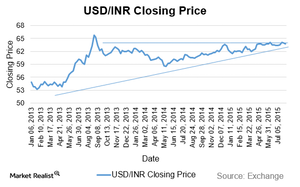 The Nikkei India Manufacturing PMI Rises to a Half-Year High
By David Meyer

Aug. 5 2015, Published 3:05 p.m. ET
Nikkei India PMI beats forecasts
The Nikkei India manufacturing PMI for the manufacturing sector improved to a six-month high of 52.7 in July compared to 51.3 in June. It beat forecasts of 51.0. This indicates an expansionary trend in the economy, also pointing to greater demand for orders.
In the weekly chart of the USD versus the INR[1. The US dollar versus the Indian rupee], we see that, after a very strong reversal from the crucial support of 63.30, we had a less volatile week. The pair of currencies was broadly in the range of 63.80–64.20. The USD-INR pair is trading very close to a crucial resistance zone of 64.20–64.30. The pair is likely to trade in the above-mentioned range, with the RBI (Reserve Bank of India) policy the likely trigger for further moves either side.
Article continues below advertisement
Impact on monetary policy
The RBI scheduled its next monetary policy meeting on August 4. The RBI had cut repurchase agreement rates three times this year, by 25 basis points each. The rate is currently at 7.25%. Though the PMI data did come out on a positive note, the expectation of a further rate cut is low in the market, as the RBI observed in its last meeting that banks have not been successful in passing on reduced interest rates.
So until there's a further rate transmission by banks, we might not see a rate cut. Also, note that the RBI has deviated from announcing rate cuts only in monetary policy meetings in order to avoid speculation in the market. Raghuram Rajan, Governor of the Year at the Central Banking Awards 2015, is known for surprising the market. His decision should prove pivotal towards the direction of the currency pair.
Impact on market
The MSCI India Index Fund ETF (INDA) fell by 1.06%, even though the PMI numbers beat estimates.
Indian ADRs (American depository receipts)—especially the ADRs relating to manufacturing, like Tata Motors Limited (TTM)—reacted positively to the PMI data. TTM had a gap up opening of 1.45%. Meanwhile, as expected, services-related ADRs like Infosys Limited (INFY) hardly showed any movement. INFY had a gap up opening of 0.35%. Dr Reddys Laboratories (RDY) also had a gap up opening of 0.96% to the previous day's close.
Banking ADRs acted indifferently to the data. HDFC Bank Limited (HDB) opened 1.69% up while ICICI Bank Limited (IBN) had a gap down opening of 1.20%.