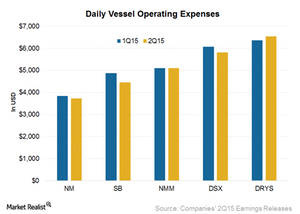 Navios Maritime Partners' Operating Expenses Seem on Track
By Anuradha Garg

Aug. 27 2015, Updated 1:03 p.m. ET
Lower vessel operating expense
Navios Maritime Partners (NMM) has a contract with the subsidiary of Navios Maritime Holdings (NM). In the contract, daily vessel operating expenses are fixed through December 31, 2015.
For the second quarter of 2015, NMM reported daily vessel operating expenses of $5,107. This is lower than the 2Q15 expenses per day of $6,543 for DryShips (DRYS) and $5,813 per day for Diana Shipping (DSX). Safe Bulkers' (SB) expenses are quite low at $4,449 per day for the same quarter. The graph below shows dry bulk shippers' daily operating expenses for 1Q15 and 2Q15.
Article continues below advertisement
Lower expenses support distribution
It's important to note that a company's daily vessel operating expenses are subject to fleet age, operating efficiency, company structure, and fleet portfolio. NMM benefits from the Navios group's economies of scale, and it has low fixed operation costs. All else being equal, NMM's lower daily vessel operating expenses suggest that it will distribute a larger share of its revenue to investors and its general partner.
Time charter rates
Current one-year time charter rates for Capesize, Panamax, and Handymax vessels are $16,500, $8,750, and $7,200 per day, respectively, according to Alibra estimates.
The average operating expenses for the companies in the above graph in 2Q15 are $5,127 per day. According to NMM's 2Q15 results presentation, Drewry's estimates dry bulk industry operating costs to be $6,587 per day. Add general and administrative expenses as well as interest expenses to that, and many companies aren't not even breaking even at a cash costs level.
Investors looking for diversified exposure to shipping companies can use the Guggenheim Shipping ETF (SEA). NMM forms 2.7% of SEA's net assets. The SPDR S&P 500 ETF Trust (SPY) provides exposure to the broader industry. The SPDR Metals and Mining ETF (XME) provides diversified exposure to the metals space.