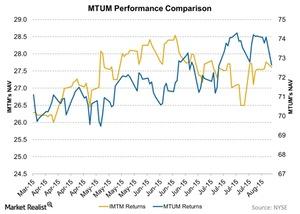 MTUM is Outperforming the Market with Momentum Investing
By Ivan Kading

Aug. 21 2015, Updated 1:31 p.m. ET
MTUM is US specific IMTM
The iShares MSCI International Developed Momentum Factor ETF (IMTM) index mainly consists of international large-cap and small-cap stocks exhibiting higher momentum. Its parent fund is the iShares MSCI USA Momentum Factor ETF (MTUM). It seeks to track the iShares MSCI USA Momentum Factor ETF. As implied by the fund's name, this index consists of companies issuing equities only in the US. It has performed fairly well in the market by giving an annual return of 20.76%. This is huge.
Article continues below advertisement
Stocks exhibiting high momentum 
Amazon (AMZN) and Walt Disney (DIS) are MTUM's top two holdings. They have single-handedly represented more than 11% of its net assets. Tech stocks like Apple (AAPL) and home improvement retailer Home Depot (HD) are also present in MTUM's top ten holdings. The success of this fund is also because these two stocks have been trending upward for the past three quarters. Its current AUM (assets under management) is $8.1 billion managed at an expense ratio of 0.15%.
Momentum and volatility
High momentum stocks tend to rise and fall at a faster pace. It's important to not get confused on volatility here. A change in the trend of a share's momentum doesn't necessarily specify a change in the price trend of the stock. Consider it this way, when there's a reversal in the trend of a price's momentum, it may specify slowness in the share's current price trend. Researchers plot a momentum chart on a zero point graph by taking the absolute difference of the current closing price less the closing price of the share in an earlier period. The term is constant throughout the momentum chart.