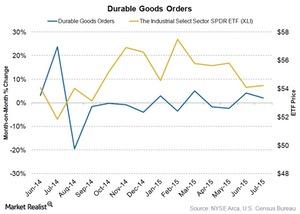 Motor Vehicles, Cheap Fuel Drove the July Durable Goods Report Up
By Surbhi Jain

Updated
The durable goods report brings good news for industrial sector investors
The Industrial Select Sector SPDR ETF (XLI) rose by 3.12% at the close of Wednesday, August 26, following the release of the positive durable goods report in the US. On August 26, the United States Census Bureau released its durable goods report for July 2015.
The manufacturing sector in the US continues to show weakness. This is reflected in XLI's movement over the past year, as seen below. Nevertheless, orders for durable goods were up 2% in July over the previous month.
The SPDR Dow Jones Industrial Average ETF (DIA), another industrial sector–tracking ETF, rose by 3.94% as of the close on August 26. Industrial sector firms such as Dycom Industries (DY), Generac Holdings (GNRC), and Terex (TEX) shone on Wall Street.
DY rose by 11.06%, GNRC rose by 7.38%, and TX rose by 5.34%. These companies have yielded +90.88%, -35.89%, and -20.80%, respectively, so far this year. XLI and DIA have yielded -10.69% and -8.48%, respectively, in 2015.
Article continues below advertisement
The durable goods report is key to industrial sector investors
An increase in durable goods orders is desirable for the US economy (SPY) (IVV). These orders translate to increased manufacturing and economic activity, which leads to growth. Investors and players in the industrial sector are keenly interested in these numbers.
The reading came in strong at 2.0% against consensus estimates of a 0.4% drop in July and against a 4.1% rise in June. On a year-over-year basis, new orders for durable goods changed by -19.6% in July 2015.
Motor vehicles drove durable goods orders in the US
Orders for durable goods in the US in July were primarily boosted by the lower oil prices in two ways. Cheaper fuel leaves households with more disposable income to be spent on durable goods such as motor vehicles. Cheaper fuel also means it costs less to operate a vehicle, which eases the purchase decision. Consequently, orders for motor vehicles, which were up 4% in the month, drove the index up in July.
Let's move on to take a look at an investor confidence report that came in on Tuesday, August 25.