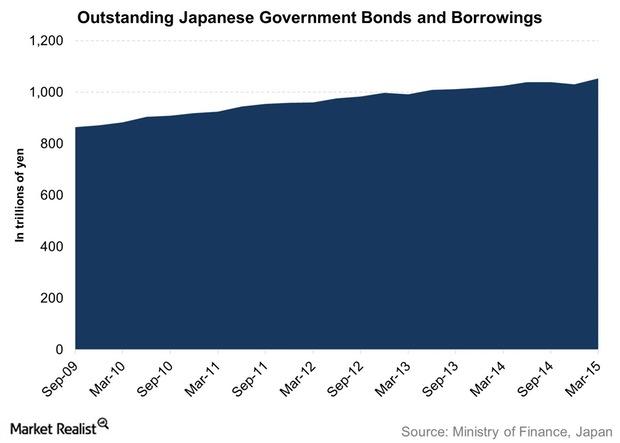 How Does the Macroeconomic Picture of Japan Look?
By David Ashworth

Aug. 13 2015, Updated 12:02 p.m. ET
Is the debt burden too heavy?
Japan is laden with debt. The graph below shows only the amount of outstanding Japanese government bonds and borrowings. The Japanese government's debt stood at 230% of its GDP (gross domestic product) at the end of 2014, making that ratio the highest among developed nations.
Everyone, from policymakers to investors, has been worried about this debt burden becoming unmanageable. In a recent release, the IMF (International Monetary Fund) noted that the country's debt could near 300% of its GDP mark by 2030.
A debt run-up on these lines would force the government to implement fiscal adjustments, which could adversely impact Japanese financial markets.
Article continues below advertisement
Should you invest in Japan?
This leads to the primary question: Is Japan an investible option? Even with slowing inflation and a large debt burden, Japanese equities have been impressive in year-to-date 2015. The iShares MSCI Japan ETF (EWJ) has returned 14.5% while the WisdomTree Japan Hedged Equity ETF (DXJ) has returned ~16%. One of the reasons has been the decision to allow GPIF (Government Pension Investment Fund), the world's largest pension fund, to invest in equities.
Prime Minister Shinzo Abe is trying to tackle several problems, from fiscal adjustment to structural reforms, to get the Japanese economy moving again. In this effort, he has sent a clear message to corporates about improving governance. Japanese banks Mizuho Financial Group (MFG) and Sumitomo Mitsui Financial Group (SMFG) pledged to reduce exposure to companies where investments were held to maintain cordial ties. However, Mitsubishi UFJ (MTU) has not communicated its policy yet.
In a positive note, Japanese corporate profits, especially those of banks, are expected to rise.
Efforts to tackle problems that have persisted for decades are ongoing. Although the Japanese government is not yet on top of that situation, it is moving in the right direction.
This may hold promise for Japanese investments, including mutual funds. In this series, we will compare four Japanese mutual funds to give you an idea of their performance as well as their portfolio composition.