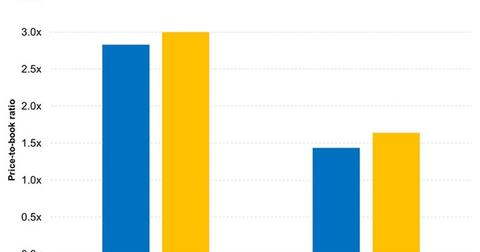 Japanese Stocks Are Inexpensive despite the Rally
By Heidi Richardson

Aug. 4 2015, Published 6:06 p.m. ET
I still see opportunity in the Japanese market for the following key reasons.
Article continues below advertisement
Attractive valuations
While Japanese valuations have increased over the past year, they remain more attractive than those in the rest of the developed world (EFA) and the broader market, on both a price-to-earnings (or P/E) and price-to-book (or P/B) basis, according to 7/12/15 Bloomberg data. In fact, in mid-July, according to Bloomberg data, the P/B for Japan was still half that of the United States. It's also worth noting that Japanese stocks remain inexpensive even after outpacing their major developed market counterparts year-to-date due to strong earnings momentum, according to Bloomberg data.
Market Realist – Japanese stocks are inexpensive despite double-digit growth in 2015.
The graph above compares the price-to-book ratio of the S&P 500 (SPY) with that of the MSCI Japan index (EWJ), along with their respective 20-year averages. Both indices are trading slightly below their long-term averages.
The S&P 500 is currently trading at 2.8x book. Meanwhile, the MSCI Japan index is trading at exactly half of the S&P 500, at 1.4x book. Historically, the S&P 500 has traded at 3.0x book, and the Japanese index has historically traded at 1.6x book. Currently, Japanese stocks are trading at a discount of 50% over the S&P 500. Historically, the discount has been slightly less, at ~44%.
This suggests that Japanese stocks are not overpriced compared with American ones. Japanese stocks are cheap even after EWJ has given returns of 14.0% YTD, and American stocks (VOO) (QQQ) are flat for the year.
However, valuations alone do not warrant the purchase of securities. They could be overvalued or undervalued for long spells. There needs to be a catalyst in order to move stocks. We will discuss the probable catalysts for the Japanese stock markets in the rest of this series.