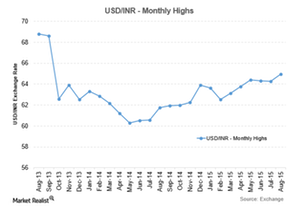 Indian Rupee Falls to a 23-Month Low, Third Consecutive Fall
By David Meyer

Updated
Rupee depreciates for the third consecutive session
The Indian rupee or INR continued a steep downward slide this week as the USD-INR pair hit the psychological barrier of 65.00 on August 12, 2015. Taking cues from the depreciation of the Chinese yuan by the People's Bank of China (PBOC), most of the Asian currencies were trading weakly against the US dollar as demand for the greenback increased and foreign investments in equity markets tumbled.
With the Indian rupee trading in a new range this week, importers—most of them oil companies—were looking to hedge their risk by covering their positions in terms of buying in US dollars.
Article continues below advertisement
Strong fundamental releases amid a rapid rupee drop
The Indian markets had some respite, as August 12 ended with strong releases in inflation and industrial production data. Consumer Price Inflation (CPI) came in at 3.78% for July against expectations of a higher figure of 4.42%. Industrial production for June also exceeded forecasts by 30 basis points, hitting a four-month high of 3.8%. With inflation falling and a spur in industrial activity, talks of another rate cut by the Reserve Bank of India (the RBI) have surfaced. In the previous policy meeting, the RBI had maintained the status quo in terms of rates. You can find further details on the last RBI policy meeting in Reserve Bank of India Keeps Its Key Rates Unchanged.
Impact on the market
The iShares MSCI India ETF (INDA) plunged 2.45% due to negative sentiment in the market.
Indian ADRs (American Depository Receipts) had a mixed day on August 12, 2015, with Tata Motors (TTM) falling heavily by 3.55%, taking negative cues from the yuan's depreciation. On the other hand, Infosys (INFY) recorded an uptick of 2.23%.
Banking ADRs experienced less volatility, with HDFC Bank Limited (HDB) rising 1.19% and ICICI Bank Limited (IBN) falling 1.21%.