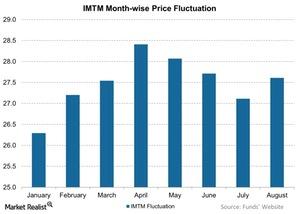 IMTM Is Exploring New Depths in Momentum Strategy Investing
By Ivan Kading

Nov. 20 2020, Updated 1:36 p.m. ET
IMTM is a passively managed fund
The iShares MSCI International Developed Momentum Factor ETF (IMTM) uses a momentum investment strategy that's similar to the Cambria Global Momentum ETF (GMOM). It seeks to track the MSCI World ex USA Momentum Index. The index primarily consists of stocks exhibiting aggressive momentum. According to the fund's prospectus, "The price momentum of security is measured by the security's 6-month and 12-month excess price return over the risk free rate divided by the annualized standard deviation of weekly returns over the past three years." The fund uses the combination of its excess return over the risk-free rate and standard deviation to draw a momentum chart.
Article continues below advertisement
Tracking Index
The index component consists of around 85% equities of companies in the US and other developed countries. The index is composed of shares of ~300 companies from various sectors like the financials, healthcare, and industrial sectors. Since IMTM seeks to track this index, unlike GMOM, it uses a passive approach. The expense ratio for a passively managed fund is usually less than their actively managed counterparts. As seen in this case, it's just 0.30%.
A rare new fund with strong performance
The top five holdings of IMTM are Toyota (TM), Novo Nordisk Class B (NOVO), Novartis AG (NOVN), Valeant Pharmaceuticals Internationals (VRX), and Mitsubishi UFJ Financial Group (MTU). Currently, it's managing a net asset of $5.5 million. Since its inception on January 15, 2015, it has given a total return of 5.50% to its investors. This is superb considering that it's a relatively new fund in the market.