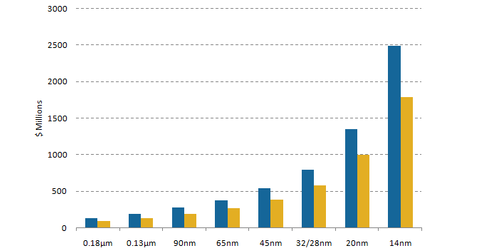 IBM's Licensing Technology Threatens Intel's Dominance
By Anne Shields

Aug. 5 2015, Updated 3:05 p.m. ET
IBM's availability of chip licensing will benefit fabless companies
In the prior part of the series, we discussed how IBM (IBM), GlobalFoundries, and Samsung (SSNLF) have mutually benefitted by partnering with each other. By licensing its chip-making technology to Samsung and GlobalFoundries, IBM can help "fabless" chip makers. Apple (AAPL) and Qualcomm (QCOM) design their own chips. However, they have to depend on others like ARM Holdings (ARMH) for the actual manufacturing of the fabs.
The below chart highlights the problems of integrated device manufacturers (or IDMs) as well as foundry vendors. As dimensions shrink, the associated cost of developing advanced processes increases, as you can see below.

Article continues below advertisement
IBM's plan to "open source" hardware threatens Intel's dominance in semiconductor space
IBM through OpenPower, which was launched in 2013, is licensing its patents to other technology companies globally. Through OpenPower, IBM is making hardware "open source," which poses a significant threat to Intel's dominance in server and storage space. Apart from licensing, IBM will also get an opportunity to seek strategic and strong alliances in difficult markets like China.
In the prior part of the series, we saw that IBM is the largest patent holder in the world. IBM's vast and diversified patents and patent applications span chip technologies that are commercialized to drive transistor sizes down to 7 nanometers. Industry analysts believe that IBM's chip design operation reflects its plan to build upon its intellectual property instead of building upon its revenue generating stream. IBM aims to enhance its patent portfolio with new chip designs that will generate passive royalty revenue from chip makers who will also benefit by not being subjected to the risks involved in chip fabrication.
You can consider investing in the VanEck Vectors Semiconductor ETF (SMH) to gain exposure to Intel. Intel makes up about 19% of SMH.