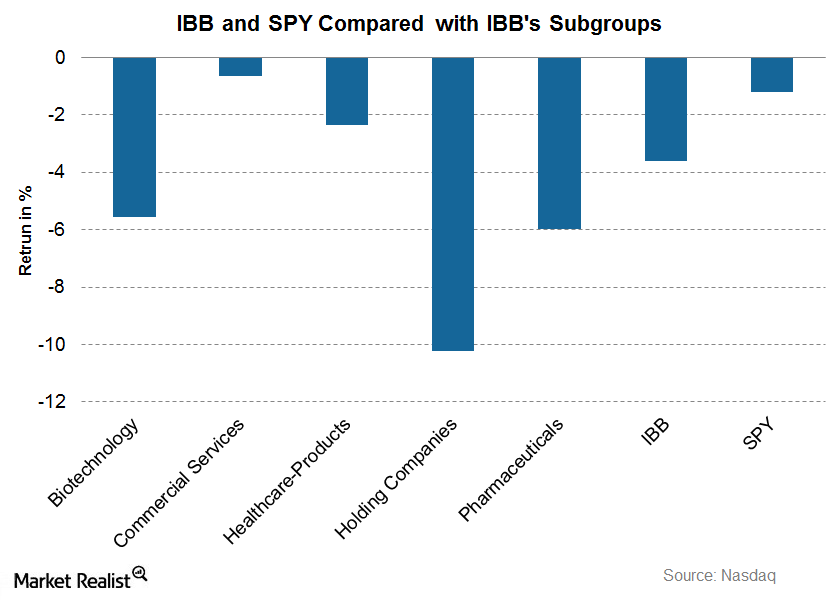 IBB ETF Pounded by Biotech and Pharma Subgroups in Early August
By Peter Neil

Aug. 26 2015, Updated 2:51 p.m. ET
IBB dragged down by biotechnology and pharmaceutical subgroups
The biotechnology and pharmaceutical subgroups comprise 97.43% of the iShares NASDAQ Biotechnology ETF (IBB) portfolio. Biotech followed the market trend in the week ending August 7, 2015, and was oversold. Globally, markets fell on concerns about weak economic data from China, giving up all the gains made during the week ending July 31, 2015.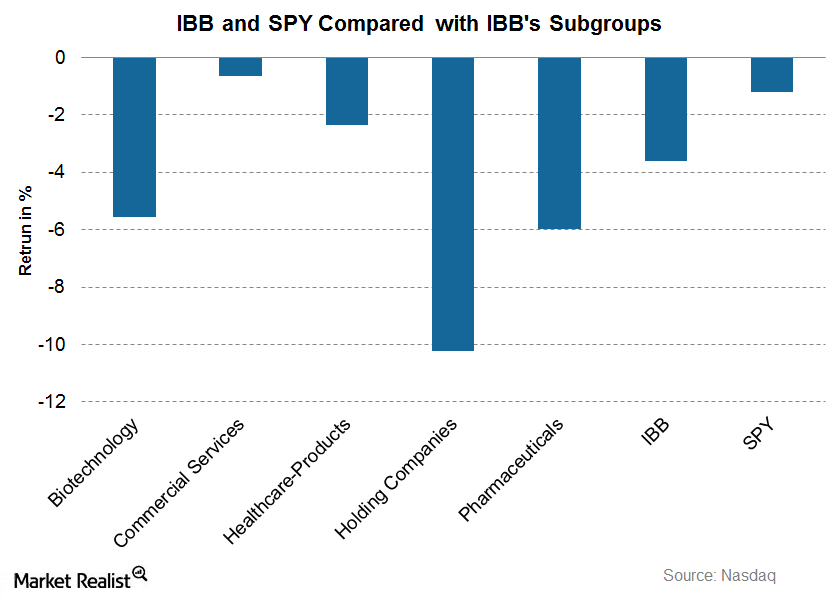 The above graph reflects the performance of IBB's subgroups against IBB and the SPDR S&P 500 ETF Trust (SPY).
Article continues below advertisement
Within IBB, the holding companies sector fell by 10.23%, but it comprises only 0.69% of IBB's portfolio. The biotechnology sector, making up 73.61% of the ETF, fell by 5.56%. Pharmaceuticals, comprising 23.82% of IBB, fell 5.99% in the week ending August 7, 2015. Biotechnology and pharmaceuticals underperformed both IBB and the broader market index (SPY) in that same period.
REGN rises, while ACAD and ALNY fall
Regeneron Pharmaceuticals (REGN), making up 7.26% of the IBB biotechnology subgroup, rose 4.58% during the week ended August 7, 2015. With its 2Q15 results, REGN reported a 50% revenue increase to $999 million versus $666 million in 2Q14. GAAP (generally accepted accounting principles)-based net income stood at $195 million—a sharp increase over $96 million in 2Q14.
The biotechnology subgroup was dragged down by Alnylam Pharmaceuticals (ALNY). ALNY makes up 1.6% of the subgroup and fell 16.67% during the week ended August 7. ALNY announced a net loss of $71.8 million for 2Q15 and disappointed Wall Street with a wider net loss gap year-over-year. ALNY's 2Q14 loss stood at $44.1 million.
Meanwhile, Acadia Pharmaceuticals (ACAD), comprising 0.6% of the pharmaceutical subgroup, fell 19.81% after announcing its 2Q15 results. According to the company's press release, ACAD reported a net loss of $39.4 million, worse than the $21.5 million net loss it posted for 2Q14.