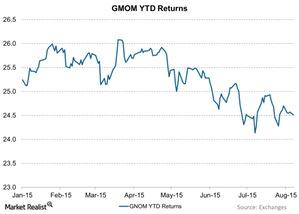 GMOM Is a Pioneer in Quant-Based Funds
By Ivan Kading

Updated
Top five holdings represent nearly one-third of GMOM
The top five holdings of the Cambria Global Momentum ETF (GMOM) include the iShares Global Healthcare ETF (IXJ), the Vanguard Mid-Cap ETF (VO), the iShares Global Technology ETF (IXN), the Vanguard Total Stock Market ETF (VTI), and the Cambria Shareholder Yield ETF (SYLD). They represent almost 32% of its total portfolio. In all, GMOM holds 19 different securities in its portfolio. IXJ contains healthcare stocks like Novartis AG (NOVN) and Johnson & Johnson (JNJ) in its portfolio. Apple (AAPL) and Microsoft (MSFT) are two of IXN's significant holdings.
[marketrealist-chart id=584050]
Article continues below advertisement
Weak performance
GMOM gave a -1.35% return since January. Since April 11, 2014, the fund has given a total return of -0.42. It's a relatively new fund and it's actively managed. As a result, it's giving negative returns to its investors. The IT (information technology) and healthcare sectors form a significant part of GMOM's holdings. Its performance depends on these industries.
GMOM has a broad portfolio base
According to the fund's website, GMOM intends to target investing in the top 33% of a target universe of ~50 ETFs based on measures of trailing momentum and trend. The portfolio begins with a universe of assets consisting of domestic and foreign stocks, bonds, real estate, commodities, and currencies.