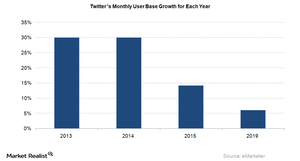 Former CEO Dick Costolo Plans to Bid Farewell to Twitter
By Matilda James

Updated
Former Twitter CEO might vacate its place from the board
Dick Costolo, the former CEO of Twitter (TWTR), plans to step down from the company's board according to a recent report from the Wall Street Journal. Costolo announced his departure from the CEO position in June, stating that he would continue to serve on the board and help with the transition process.
Twitter's board currently includes co-founders Ev Williams and Jack Dorsey. Dorsey also serves as the interim CEO of Twitter and is also the founder and CEO of mobile payment company Square. Costolo plans to bid farewell to Twitter once the company appoints its new CEO by the end of this year.
Article continues below advertisement
Twitter under Costolo's leadership
During his five-year tenure, Costolo turned Twitter into a public company with a market value of ~$25 billion. He addressed some problematic areas such as new user retention with features like Instant Timeline and While You Were Away, which highlights the best tweets since a user's last login. However, these initiatives proved sluggish in terms of user growth.
Despite slow product innovations, Twitter's monthly user base should grow 14.1% this year, down from its 30% growth two years ago. By 2019, Twitter's worldwide user growth rate should be 6%, according to eMarketer and as shown in the above graph.
Monthly active users
Twitter has 316 million monthly active users (or MAU) as of 2Q15, which is far less than Facebook's (FB) MAU base of 1.49 billion. In the last few quarters, Twitter has faced a number of issues that caused its user base growth to slow down. Twitter implemented an authentication measure in 3Q14 that prevented its users from logging on with the BlackBerry (BBRY) application.
In 4Q14, Twitter stated that it lost about 1 million users due to the rollout of Apple's (AAPL) iOS 8 smartphone operating system. Users either forgot their passwords or never bothered to re-download the Twitter app.
However, in 1Q15, Twitter started adding SMS (Short Message Service) followers to its user base. SMS followers are users who receive tweets via SMS and who don't have Internet connectivity on their phones. These are often users who use these features on phones in emerging markets (EEM).