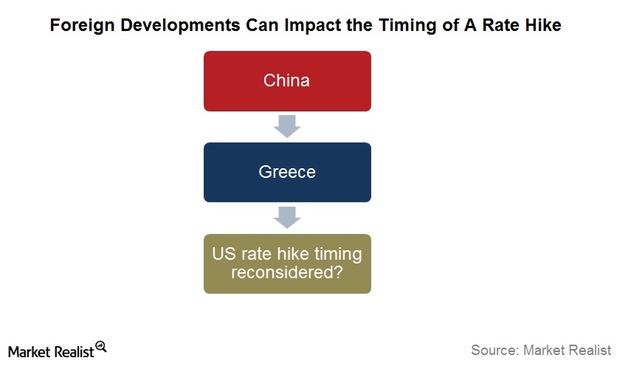 How Foreign Developments Can Impact US Monetary Policy
By David Ashworth

Dec. 4 2020, Updated 10:53 a.m. ET
Impact of foreign developments
In this interconnected world, there is only a handful of economies whose developments do not impact others. When the US is about to make a decision on the direction of monetary policy, policymakers around the world pay attention to developments that can impact their own currencies and financial systems. Similarly, the US must heed foreign developments before effecting policy changes.
Recently, we have seen US financial markets react sharply to financial shockwaves in Greece and China. Because the Federal Reserve wants to maintain stability in US financial markets, it is important to assess whether present foreign developments will put the domestic market through tumultuous times.
Article continues below advertisement
Impact on monetary policy
With respect to policy, it is important for the Fed to carefully assess foreign developments. Several countries and regions, like Japan and the Eurozone, are continuing with policy easing, while the US is looking at tightening its monetary policy.
Policymakers have believed that easing their monetary policy actions may reduce the risks to US economic growth. These easing measures are expected to help these economies find stability. This could, given some reduction in the strength of the US dollar, create demand for US exports. If this occurs, it can be good news for exporters like Microsoft (MSFT), Colgate-Palmolive (CL), and Apple (AAPL). However, in the near term, a rate hike in the US may strengthen the dollar and worsen already flagging net exports.
The Fed's view
In the July 2015 minutes, policymakers believed that economic progress in Greece (GREK) would be limited, although risks have reduced. In the latest development, Alexis Tsipras resigned as the prime minister of Greece, giving way to snap elections.
With respect to China, some participants believed that the recent decline in Chinese equities (FXI) may not impact China's growth outlook. However, if the Asian economy were to slow down, it could impact the United States' economic outlook.
The US central bank will certainly keep an eye out for foreign developments—and you should too, given the impact on overseas as well as US investments.
In the next article, we'll look at a possible future development on the Fed's reinvestment policy.