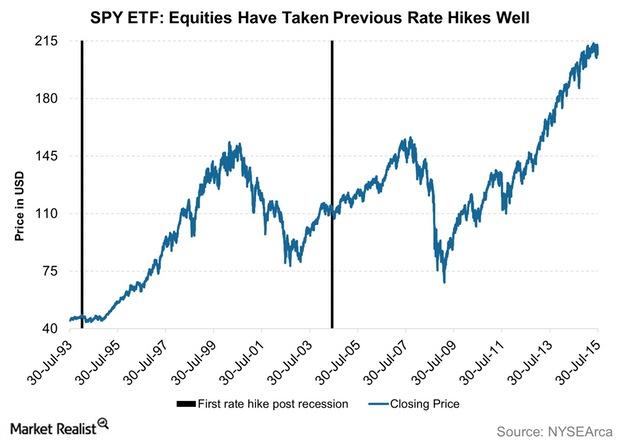 Is the FOMC Confident about Effecting a Rate Hike in 2015?
By David Ashworth

Dec. 4 2020, Updated 10:52 a.m. ET
Cautious approach
The US Federal Reserve's FOMC has been very cautious about its communication regarding the path of monetary policy. For a brief while, it used the word "patience" while providing forward guidance to monetary policy—especially about effecting a rate hike. While explaining the use of "patience" in December 2014, Fed Chair Janet Yellen had said that the FOMC didn't see economic conditions as robust enough to increase the federal funds rate in at least the two next meetings.
Article continues below advertisement
But, in order to remove any reference to the timing of a rate hike, the central bank removed "patience" from its policy communication in the March 2015 meeting statement. This benefitted the Fed. It distanced itself from any speculation regarding the timing of effecting a rate hike. From March onwards, it has maintained that the central bank will be data-driven as far as the timing of a rate hike is concerned. There are no longer any references to any number months before the economy would be ready for liftoff.
Market volatility on the mind?
Though policymakers have clearly stated that they'd be data-driven while deciding on effecting a rate hike, it seems that there's more than economic indicators on their mind. On more than one occasion, the central bank has expressed its concern about the market impact of such a move—especially on the fixed income markets (AGG)(BND).
Readers should note that a rise in rates is closely tied to a rise in inflation. While short-term maturity bonds are sensitive to changes in rates, long-term securities are sensitive to changes in inflation. Since a rate hike is expected when inflation begins closing in on the Fed's long-term target of 2%, long-maturity papers' yields may rise. If this happens, then products like mortgage loans, whose rates are set based on long-term rates, may rise, demotivating homebuyers and affecting homebuilders like Toll Brothers (TOL). On the other hand, banks like U.S. Bancorp (USB) and insurers like The Allstate Corporation (ALL) would welcome a rate hike.
Though managing market volatility isn't a central bank mandate, it seems the Fed wants to be very cautious in its approach and that it's eyeing the financial markets' reaction before a liftoff.