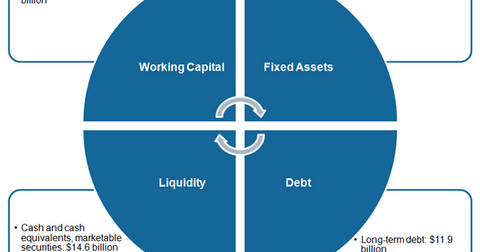 Exploring Gilead Sciences' Balance Sheet
By Margaret Patrick

Aug. 26 2015, Updated 3:06 p.m. ET
Balance sheet health
You can analyze the health of Gilead's balance sheet by evaluating the company's working capital, fixed assets, and debt ratios. A healthy balance sheet ensures that a business has a greater probability of sustaining its growth figures in the future.
Article continues below advertisement
Cash
The above graph shows that Gilead Sciences (GILD) currently carries $14.6 billion in cash and cash equivalents on its balance sheet. Analysts expect that the company might use this cash to pursue inorganic growth. Gilead may also use the cash to further research projects targeting innovative drugs.
Debt
Gilead Sciences currently carries long-term debt of $11.9 billion on its balance sheet. The company's debt-to-equity ratio is 0.75, which is lower than that of its peers such as Amgen (AMGN) and Celgene (CELG) but higher than that of Biogen (BIIB). Amgen, Biogen, and Celgene have debt-to-equity ratios of 1.2, 0.05, and 1.2, respectively. Lower debt ratios lead to higher credit ratings for a company, which may result in lower cost of capital. Since the company has less debt, its risk of insolvency is also lower. It has to pay a lower fixed amount of interest every year.
Article continues below advertisement
Fixed assets
Gilead Sciences carries property, plant, and equipment worth $1.9 billion on its balance sheet. This encompasses the manufacturing plants, research and development facilities, testing laboratories, and administrative offices owned by the company.
Working capital
Gilead Sciences has total current assets and liabilities worth $18.1 billion and $8.9 billion, respectively. This translates to a working capital ratio, or current ratio, of about 2:1, indicating that Gilead Sciences has substantial liquidity to function smoothly on a day-to-day basis.
Investors can get exposure to Gilead Sciences' strong balance sheet, yet avoid company-specific risks, by investing in the iShares NASDAQ Biotechnology ETF (IBB). IBB holds 7.89% of its total holdings in Gilead Sciences.