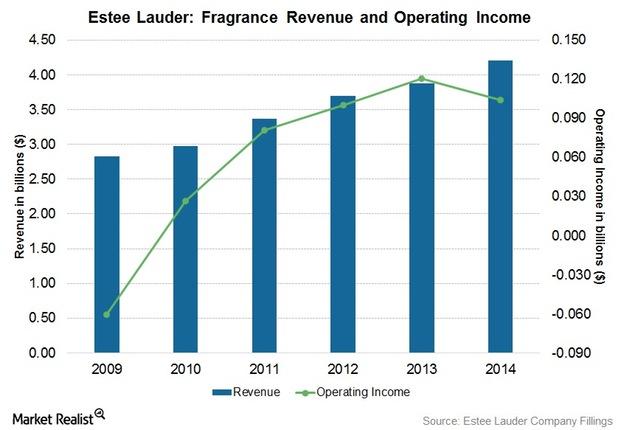 Estée Lauder's High-End Fragrance Segment
By Penny Morgan

Aug. 28 2015, Published 12:45 p.m. ET
Fragrance business overview
In addition to its strong skincare and makeup lines, Estée Lauder (EL) holds the global license for several fragrances and cosmetics brands. EL's Aramis and Designer Fragrances division creates, markets, and distributes fragrances sold under brand names such as Aramis, Michael Kors (KORS), Coach (COH), Donna Karan Cosmetics, and Tory Burch. The company's fragrances are sold in select outlets.
EL's fragrances are sold in various forms, including perfume sprays and colognes, lotions, powders, and candles that are based on a particular fragrance. Fragrance products accounted for 13% or $1.4 billion of the consolidated net sales in fiscal year 2014[1. Year ending Jun 30, 2015]. The segment's operating profit came in at $0.1 billion, which contributed 5.7% to the company's total operating profit.
Article continues below advertisement
Reasons for decrease
Operating income fell by 13% in fiscal 2014. The decrease was primarily due to higher investment spending behind major launches such as Estée Lauder Pleasures and Donna Karan Cashmere Mist. However, the decrease was partially offset by improved results of luxury brands such as Estée Lauder Modern Muse, Jo Malone Peony and Blush Suede, and Tom Ford Black Orchid. The net sales increased 9% on a currency-neutral basis compared to 3% in fiscal year 2013.
Growth drivers
Unlike Unilever (UL) products, Estée Lauder's fragrance products are more for the high-income group, which means the majority of sales depend on repeat customers. However, EL continues to grow in European perfumeries, pharmacies, and department stores, particularly in Asia and the United Kingdom.
Also, EL continually reviews acquisition and investment opportunities for its fragrances business. Recently, Procter & Gamble (PG) sold 43 of its brands to Coty (COTY). To learn more about the deal read "Procter & Gamble Divestitures: Is 43-Brand Coty Deal the Last?"
EL has exposure in the iShares S&P 500 Value ETF (IVE) with 0.1%[2. Updated July 27, 2015] of the total portfolio weight.